A few miles away from Ravello and Amalfi is a delightful fishing village called Atrani. This little village is a hidden gem of the Amalfi Coast, with its typical structures of a medieval town magnificently preserved and its labyrinth of narrow streets, arches, and courtyards.
The historical Palazzo Ferraioli, famous for the impressive view from its terrace, is the perfect choice for those who want a unique and unforgettable Amalfi Coast wedding. Plan the ceremony for the most critical day in your life in a fairy tale context with an authentic paradise in the background.
And the accommodations? Simply unparalleled. Whether planning your own Palazzo Ferraioli wedding or attending one at this stunning location, prepare for an unforgettable experience you'll cherish forever.
Palazzo Ferraioli wedding: discovering the location
The Ferraioli family initially built Hotel Palazzo Ferraioli in the 19th century. Today, it's a charming hotel with a white facade complemented by green vines, lovely plants, a beautiful cliff backdrop, and views of the Tyrrhenian Sea.
The interiors, like white walls, wooden floors, and arches, are made in pure Mediterranean style. Each room boasts a robust Pop Art vibe with a unique design; stand-out decorative touches include leather headboards, silk-screen-style prints of celebrities, and wooden ones. So, it's no surprise that many couples dream about having a Palazzo Ferraioli wedding.
Getting married in Italy, particularly on the Amalfi Coast, will allow you to experience the charm and warm hospitality of the south of Italy. During your Palazzo Ferraioli Atrani wedding reception, you will savor the authentic flavors of the region's cuisine and wines. Also, you and your guests will be delighted by the beauty of the sun setting over the sea.
Choose Palazzo Ferraioli as your romantic wedding venue and guarantee the uniqueness of your Hotel Palazzo Ferraioli Atrani wedding with its history and position.
Transportation for your Palazzo Ferraioli wedding guests
Transportation in Atrani and the surrounding areas are pretty convenient and accessible. Guests flying in can use the local airport shuttle service or hire a private car to get to the Hotel. For those who prefer to travel by train, nearby railway stations can take you to popular destinations like Sorrento, Pompeii, and Naples.
Once you arrive in Atrani, you can easily explore the town on foot or hire a scooter or bike to venture further afield. Taxis and buses are also readily available, making it easy to get around without worrying about parking or navigating unfamiliar roads.
Whether you're looking to explore the Amalfi Coast or get from one place to another, transportation options in Atrani are plentiful and varied, ensuring a stress-free and enjoyable travel experience.
From religious to civil: your Palazzo Ferraioli wedding ceremony options
Are you planning to tie the knot at the stunning Palazzo Ferraioli and wondering about the wedding ceremonies you can have? Well, you're in luck! Hotel Palazzo Ferraioli offers a range of wedding ceremony options to suit your needs.
A traditional catholic ceremony for your Palazzo Ferraioli wedding
Palazzo Ferraioli Amalfi Coast is in a prime position in the heart of Atrani, offering the possibility to enjoy a breathtaking view and reach the main churches for a catholic ceremony for your Palazzo Ferraioli wedding.
The beautiful church of St. Salvatore de Directo is in the central square, surrounded by typical Mediterranean white houses. The crowning ceremony when a cap called "Birecto" was solemnly placed on the head of the "Doge" inspired the name of the ancient church, which dates back to the 10th century.
The collegiate church of St. Maria Maddalena was built in the 13th century in thanksgiving to the Virgin Mary for her protection against Saracen pirates. Its beautiful dome covered with tin-glazed majolica tiles is one of the symbols of Atrani.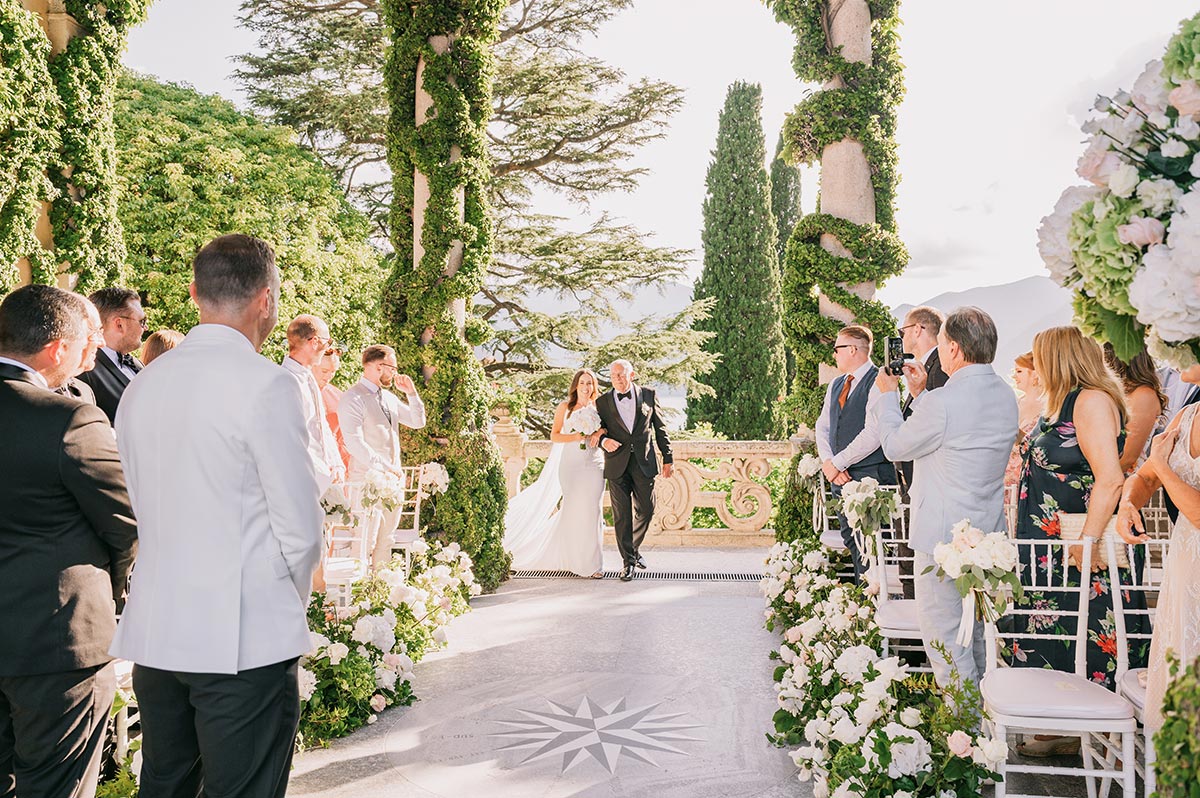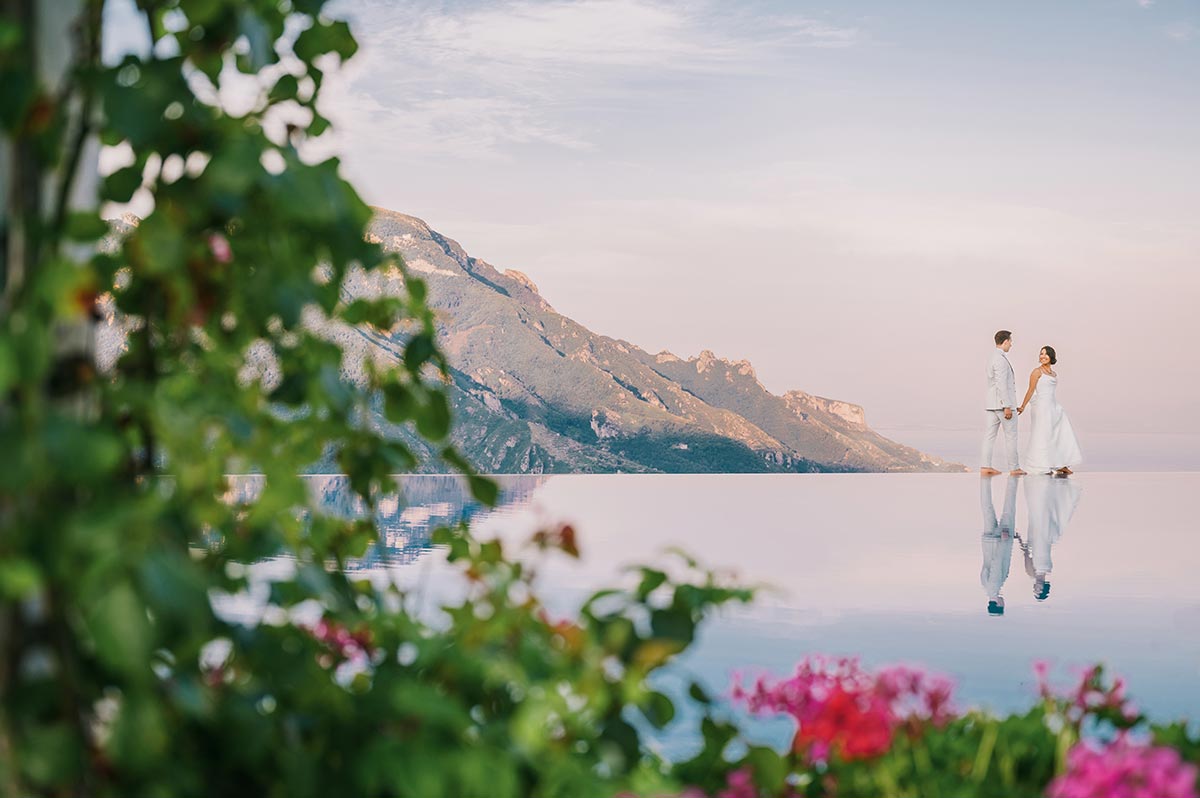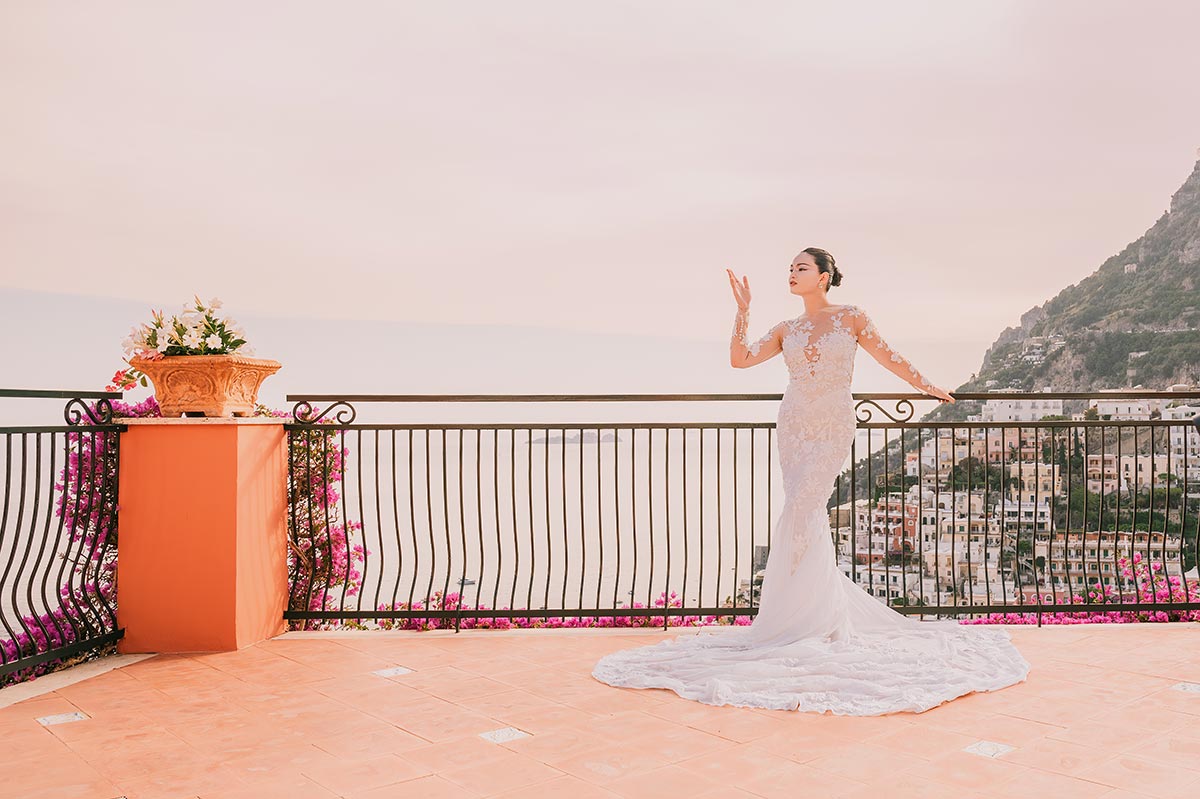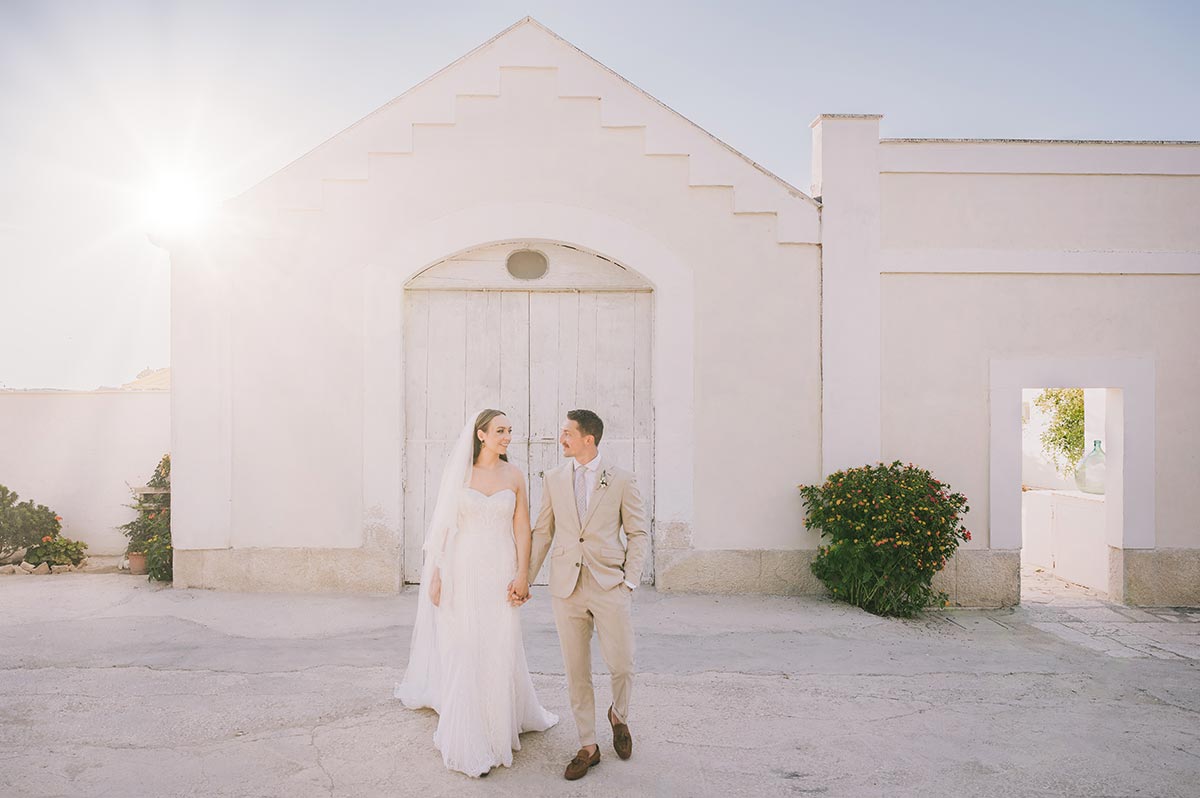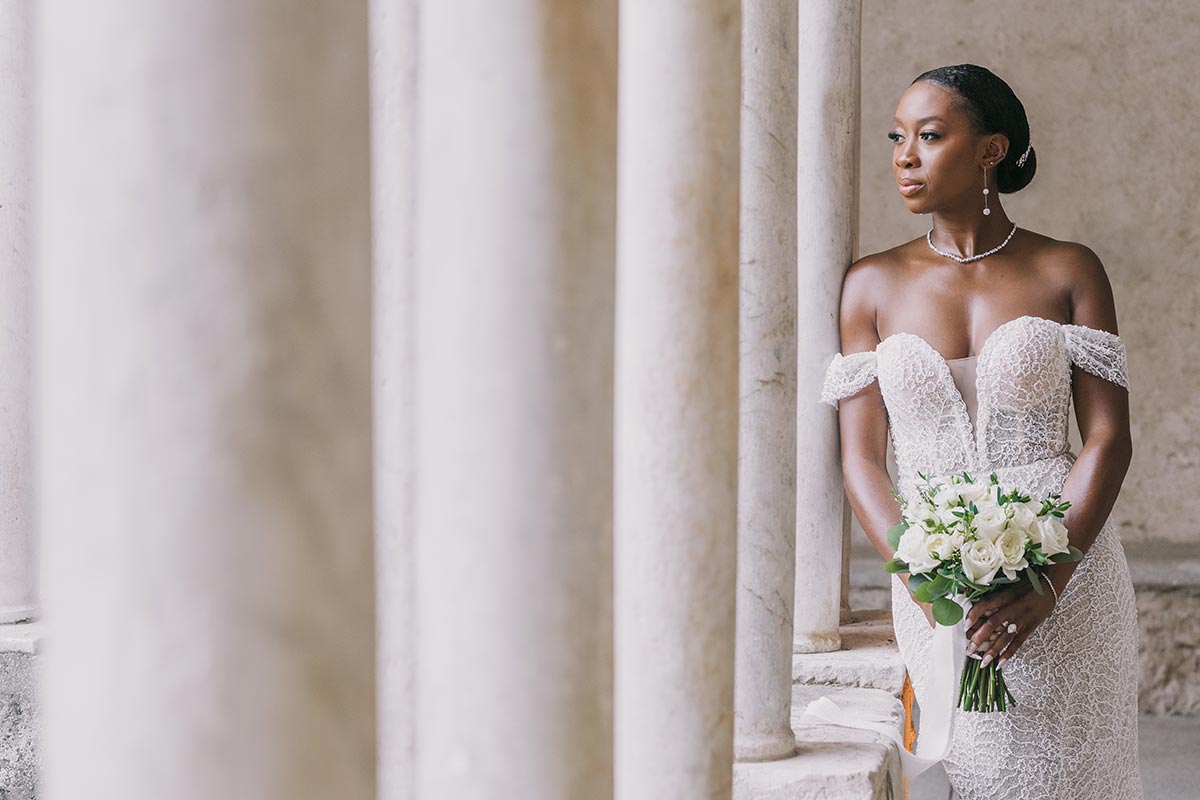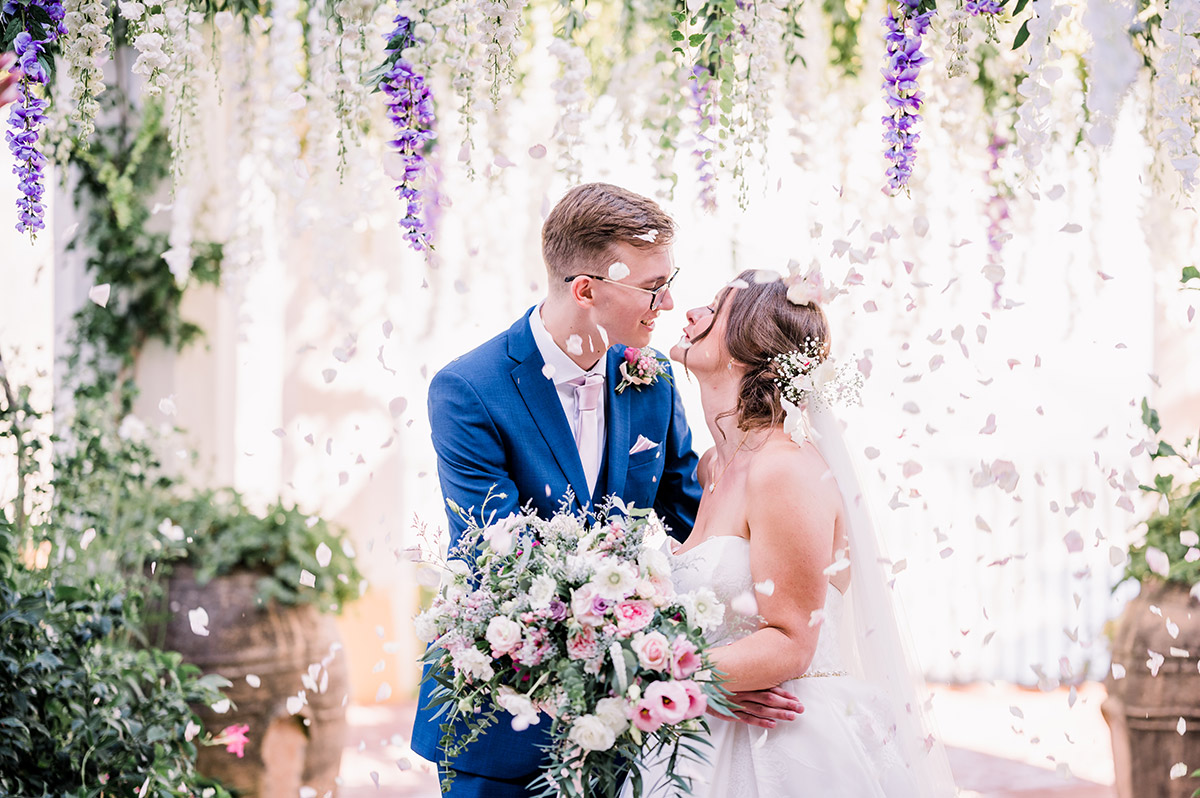 To reach the church of St. Maria Maddalena, you must walk through a small labyrinth of stairs and narrow walkways, but the view from the Maddalena will be worth the little effort.
As Palazzo Ferraioli wedding photographers, we assure you will have the perfect backdrop for your Palazzo Ferraioli wedding, whatever church you choose.
Palazzo Ferraioli offers the perfect setting for a symbolic ceremony on the Amalfi Coast
Due to its position, the Hotel overlooks the Tyrrhenian Sea and the beautiful cascading houses of Atrani. When the houses are illuminated at night, and the fishing boats or "lampare" set out from the shore, the village resembles a life-size nativity scene with stacked houses.
Palazzo Ferraioli Atrani: the perfect place for your civil wedding ceremony
Finally, if you're looking for a civil ceremony, the charming town hall of Atrani is just a short walk from the Palazzo Ferraioli. The picturesque Piazza Umberto I, where the town hall is located, provides a romantic and intimate setting for a civil wedding ceremony.
With an unbeatable backdrop, your Palazzo Ferraioli wedding will be truly unique. Also, as Hotel Palazzo Ferraioli wedding photographers, we suggest having a fine dining experience or a private reception on the magnificent terrace of this historical Amalfi Coast wedding venue.
No matter which type of wedding ceremony you choose, Palazzo Ferraioli Atrani is the only place you can match charming views and quality amenities: that is all you need to plan your unique Hotel Palazzo Ferraioli wedding.
Discover Atrani during your Palazzo Ferraioli wedding week
Atrani often needs to be noticed by its larger, more famous neighbor, Amalfi, despite being a charming and picturesque town on the Amalfi Coast. But don't let that fool you - Atrani has plenty to offer in beauty, history, and culture.
Stroll through its narrow streets and alleys, and you'll be transported back to the Middle Ages, with its tall bell tower and quaint piazzas. And if you're a beach lover, Atrani's small but beautiful beach is just stepping away from Palazzo Ferraioli.
Unique intimate elopements in Italy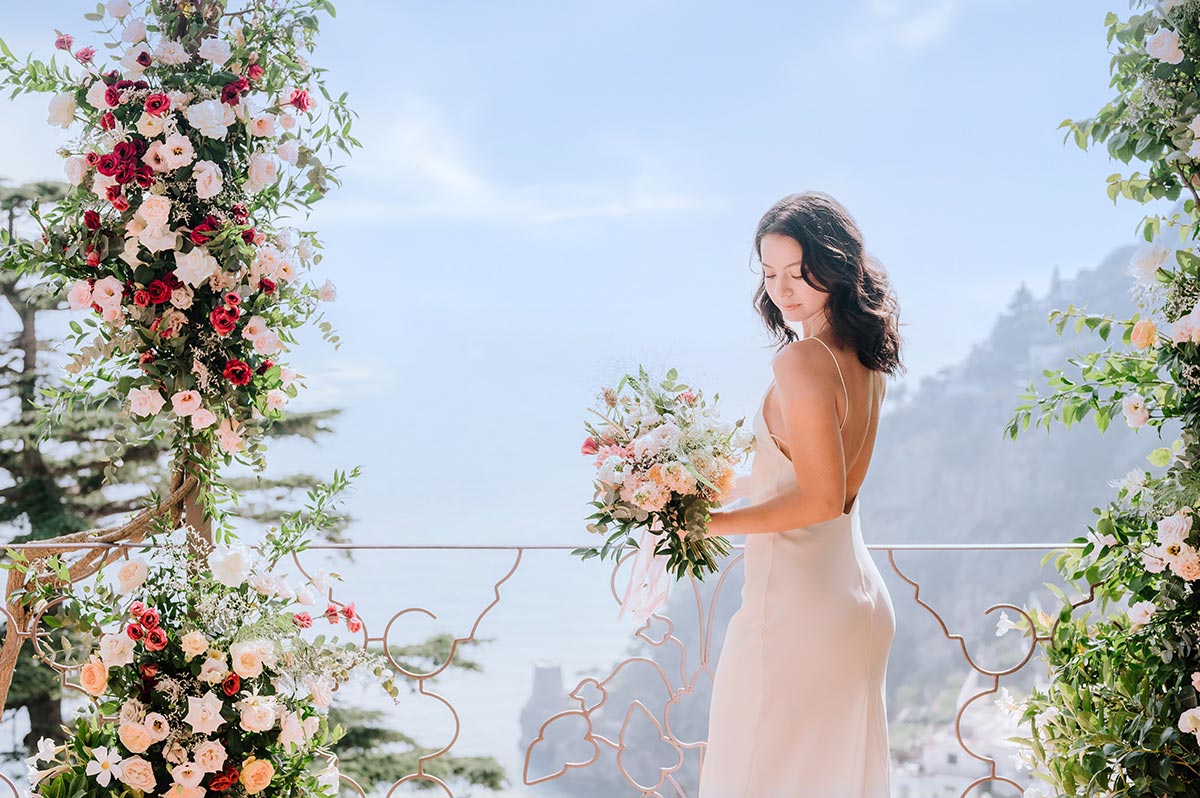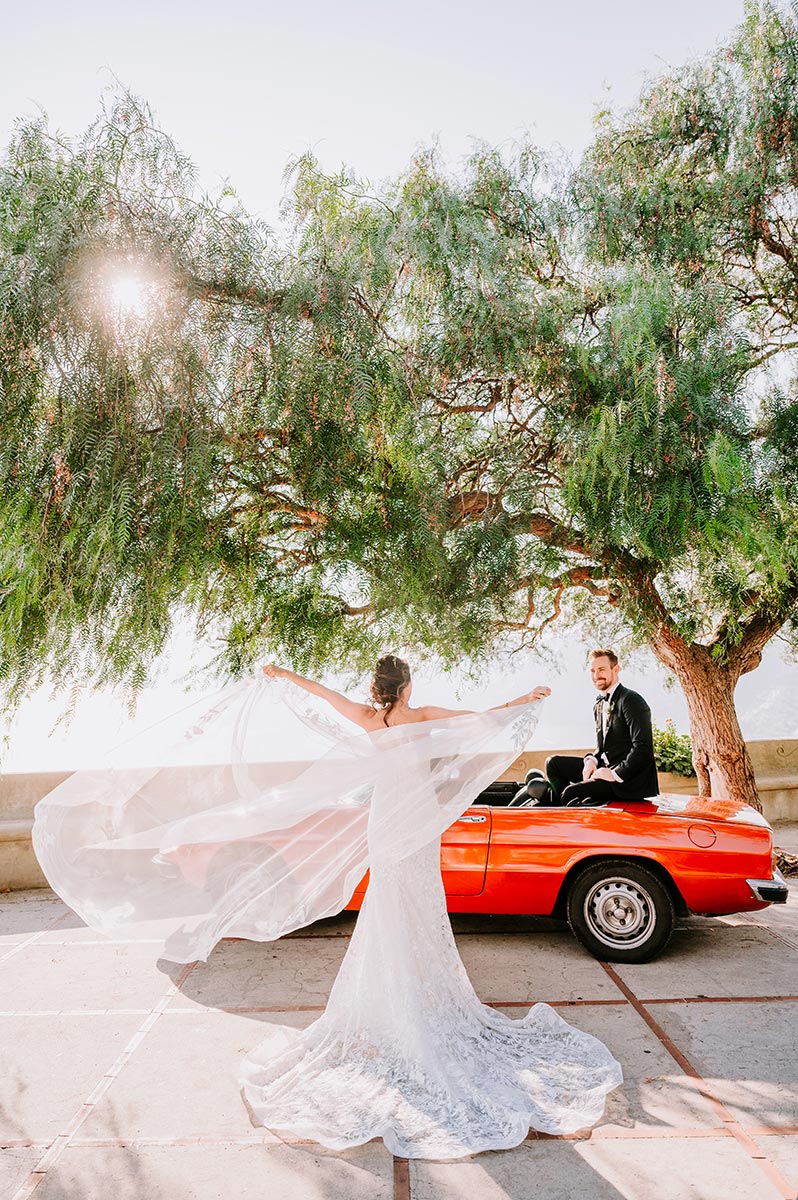 An intimate and private wedding in Positano. Find out how to make your elopement in Italy unforgettable with wonderful photos and unique details on breathtaking views.
An intimate wedding with a vintage car in Praiano. If well organized you can plan the ceremony in Positano and take pictures along the coast and driving a vintage car.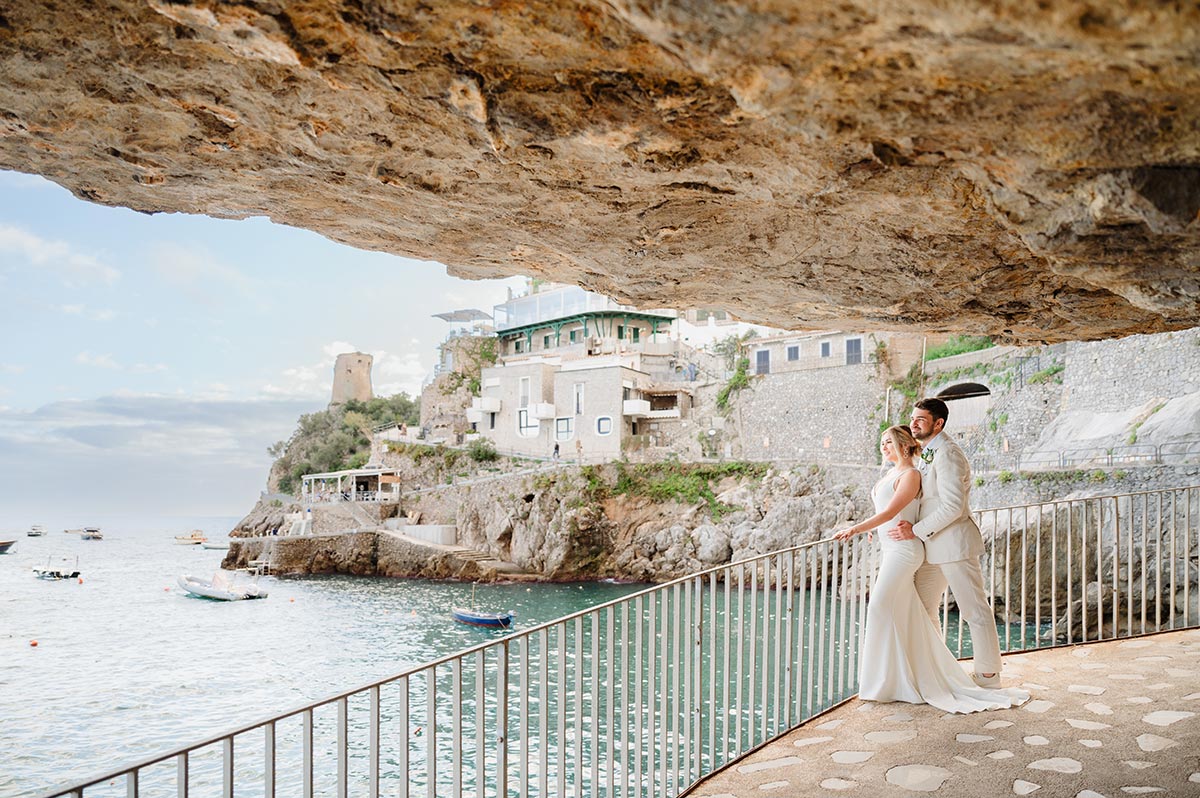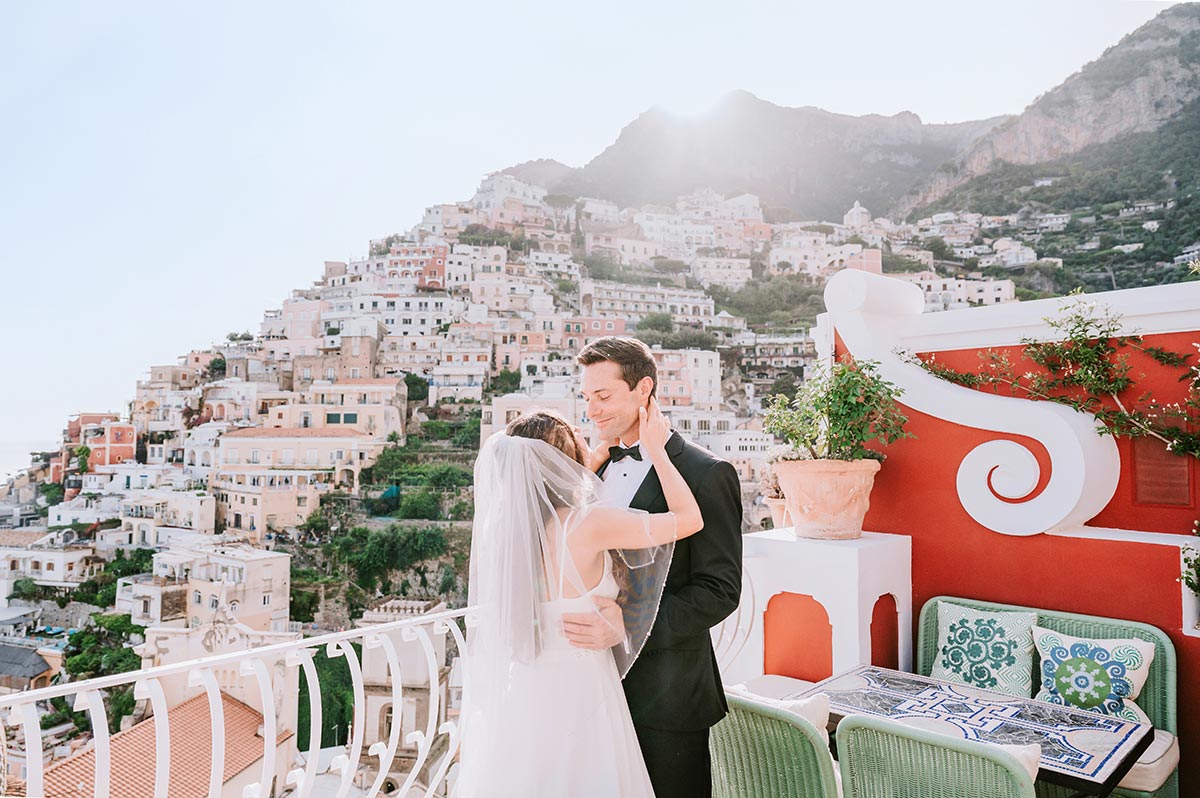 Our goal is to redesign the atmosphere of your wedding and give you a unique emotional record of a perfect day.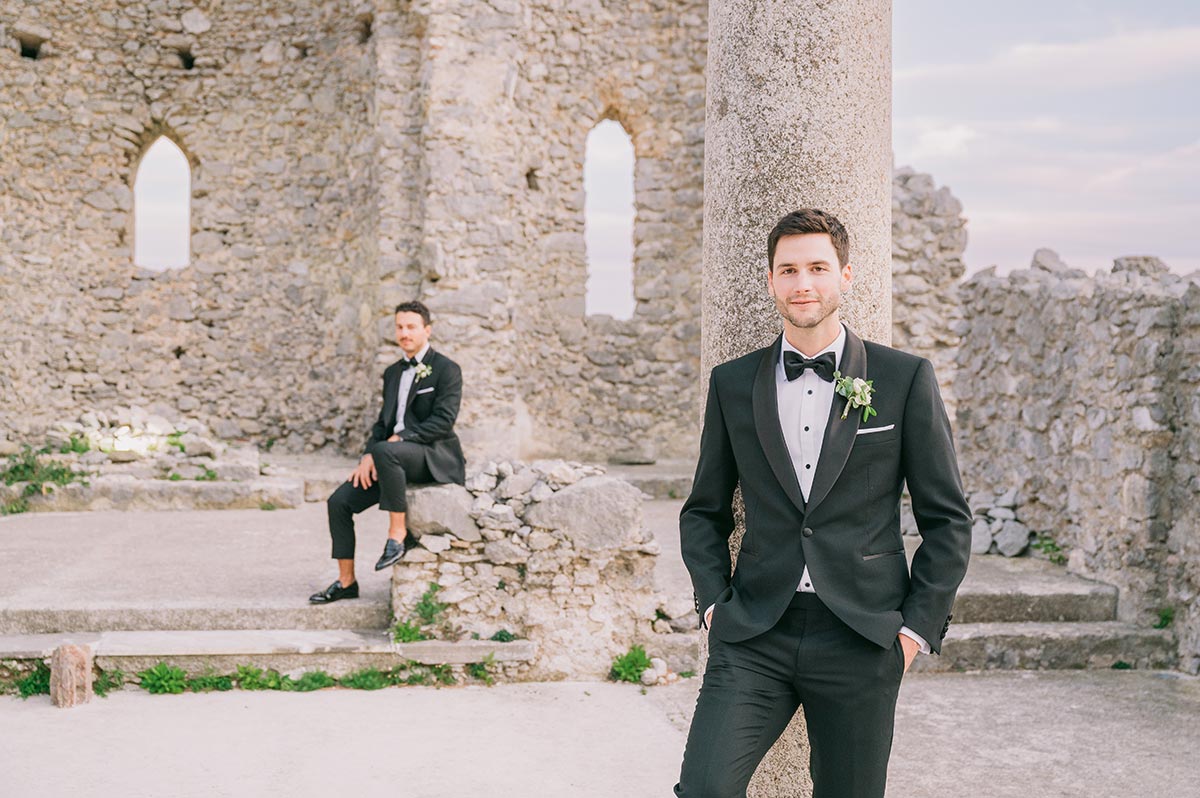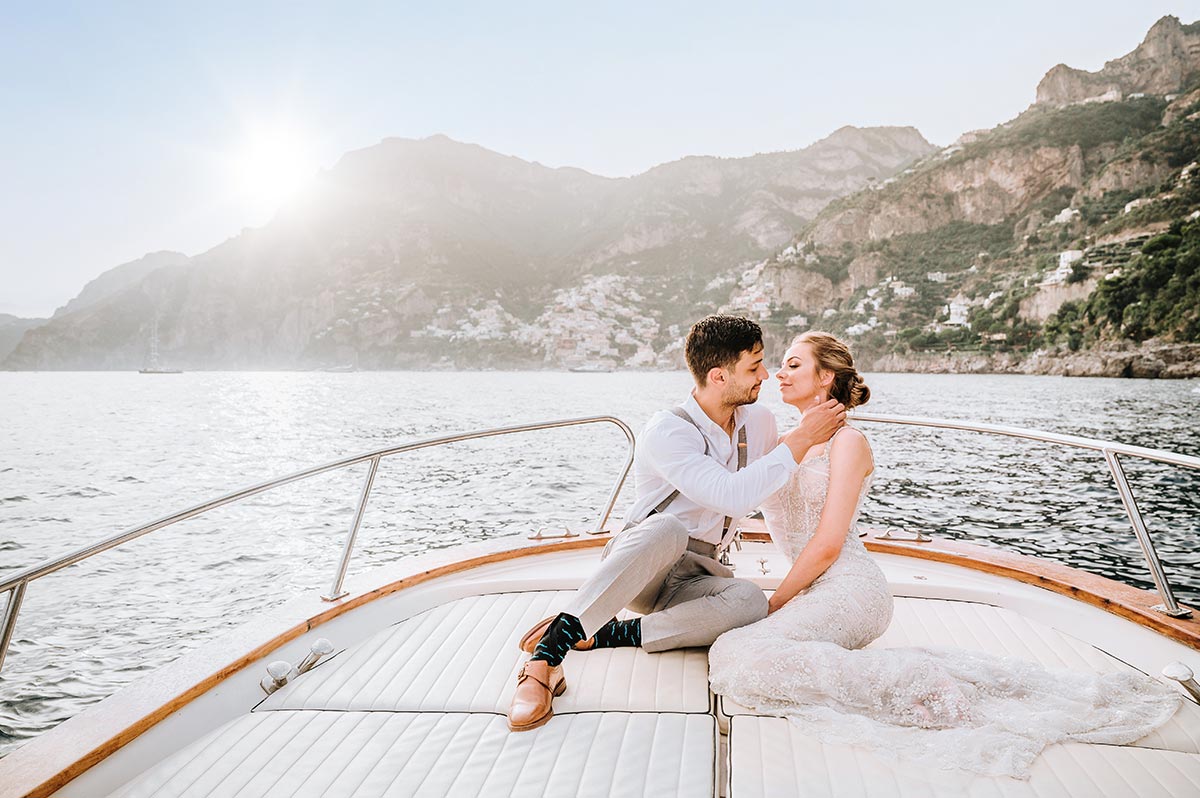 For you who love luxury and elegance, refinement, amazingness on such an important day, there is a dream to live with no delay.
Also, this beautiful and picturesque town offers a range of locations for couples to take memorable photographs. Some of the top spots for couple shots in Atrani include:
THE BEACH: Atrani's stunning sandy beach provides a romantic and idyllic photo backdrop.
THE PIAZZA UMBERTO I: This charming square is the heart of Atrani, with its colorful houses, narrow streets, and traditional cafés. It's a great place to capture candid shots of the couple enjoying the local culture and atmosphere.
THE CHURCH OF SANTA MARIA MADDALENA: This beautiful church, with its iconic bell tower and ornate facade, is a popular spot for couples to photograph. The church is located in the center of Atrani and offers a stunning setting for formal portraits.
THE ATRANI SEA BRIDGE: This picturesque bridge spans the narrowest part of the Atrani River and provides stunning views of the coast and the surrounding countryside. It's an excellent location for romantic and scenic shots of the couple.
THE PANORAMIC VIEWPOINTS: Several scenic viewpoints in the hilly region of Atrani offer breathtaking views of the coast and the surrounding countryside. These viewpoints are perfect for capturing stunning photos.
There are several reasons why Atrani may be a preferred choice for wedding couples looking to take photographs compared to the nearby town of Amalfi.
One reason is that Atrani is a smaller and more intimate town compared to Amalfi, which may be more appealing for couples who want a more laid-back and low-key setting for their wedding photos. Atrani's size and charm also make exploring and finding unique and picturesque locations for photos easier.
In addition, Atrani has a range of beautiful and varied locations for wedding couple shots, including the beach, the Piazza Umberto I, the Church of Santa Maria Maddalena, the Atrani Sea Bridge, and panoramic viewpoints, all of which offer a range of settings and backdrops for photographs.
Finally, Atrani is less crowded and touristy than Amalfi, which may make it easier for couples to take photos without the distractions and disruptions of large crowds.
FROM OUR MAIN TOPICS
Explore the surroundings of Atrani after your Palazzo Ferraioli wedding
Planning a Palazzo Ferraioli wedding is not just about the ceremony and reception - you want to ensure your guests have plenty of things to see and do during their stay. Lucky for you, Atrani and its surroundings are brimming with local attractions that will keep your wedding party entertained and engaged.
RAVELLO
In case you're interested in discovering the neighboring areas, numerous opportunities are available. The town of Ravello, situated a brief distance away, is well-known for its remarkable vistas of the coastline and its exquisite gardens. You can spend hours wandering through the Villa Cimbrone and Villa Rufolo, taking in the intricate designs and lush greenery.
POMPEII
Visiting the ancient city of Pompeii is a must-see for those interested in history. After being buried by the eruption of Mount Vesuvius in AD 79, this site has been uncovered through excavation, providing a sneak peek into life in the Roman Empire. You can see the ruins of houses, temples, and public buildings and imagine what it would have been like to live in this bustling city.
NAPLES AND MOUNT VESUVIUS
If you're feeling adventurous, take a hike up to the top of Mount Vesuvius itself. The volcano is still active, but don't worry - it's closely monitored, and guided tours are available. You'll have breathtaking views of the Bay of Naples and the surrounding countryside from the top.
AMALFI COAST
And, of course, no visit to the Amalfi Coast is complete without the local cuisine. From fresh seafood to delicious pasta dishes, the region's cuisine is world-renowned for its freshness and quality. Be sure to try the local specialty, limoncello, a sweet liqueur made from the region's famous lemons.
So, you have plenty of options for your Palazzo Ferraioli wedding guests to explore and enjoy during their stay in Atrani and its surroundings. From picturesque towns to ancient ruins, there's something for everyone. Make sure to plan extra time into your wedding itinerary to experience this beautiful region's beauty fully.
Your photoshoot after Palazzo Ferraioli Amalfi Coast wedding
If you have dreamed of feeling like a princess on your wedding day, why not in an Italian castle?
As a destination wedding photographer, we can introduce you to the most talented and professional wedding planner in the Amalfi Coast and Italy, able to arrange weddings with civil validity in Italian castles.
Whether or not you can travel to Italy before the wedding, we offer many options for planning assistance. Like your future wedding attire, our planning process is tailored for your event, regardless of size.
Also, we attended too many destination weddings like Protestant (all denominations), Jewish, non-denominational, and symbolic ceremonies in chapels, gardens, and halls of many castles in Italy.
Don't hesitate to contact us for more than a Palazzo Ferraioli wedding. As Italian wedding photographers, we will happily help you find solutions for your needs.
After your Palazzo Ferraioli wedding, you don't need to fly away! However, a professional photoshoot is an excellent way to create lasting memories of your travels. Italy is a beautiful country, and we cover all the most unique destinations from the North to the South of Italy.
As Umbria and Apulia wedding photographers, we love these two regions. They are perfect for honeymoons, engagements, wedding proposals, anniversaries, or other special celebrations.
Staying on the Amalfi Coast instead, how to forget the picturesque town of Positano? Positano is known for its chic atmosphere, with international tourists drawn to its stylish pathways and boutiques each summer, in part due to the fame of the "Positano fashion style."
As Positano wedding photographers, we can give you insider tips and share the place's natural soul. That is a unique souvenir of your unforgettable vacation in Italy!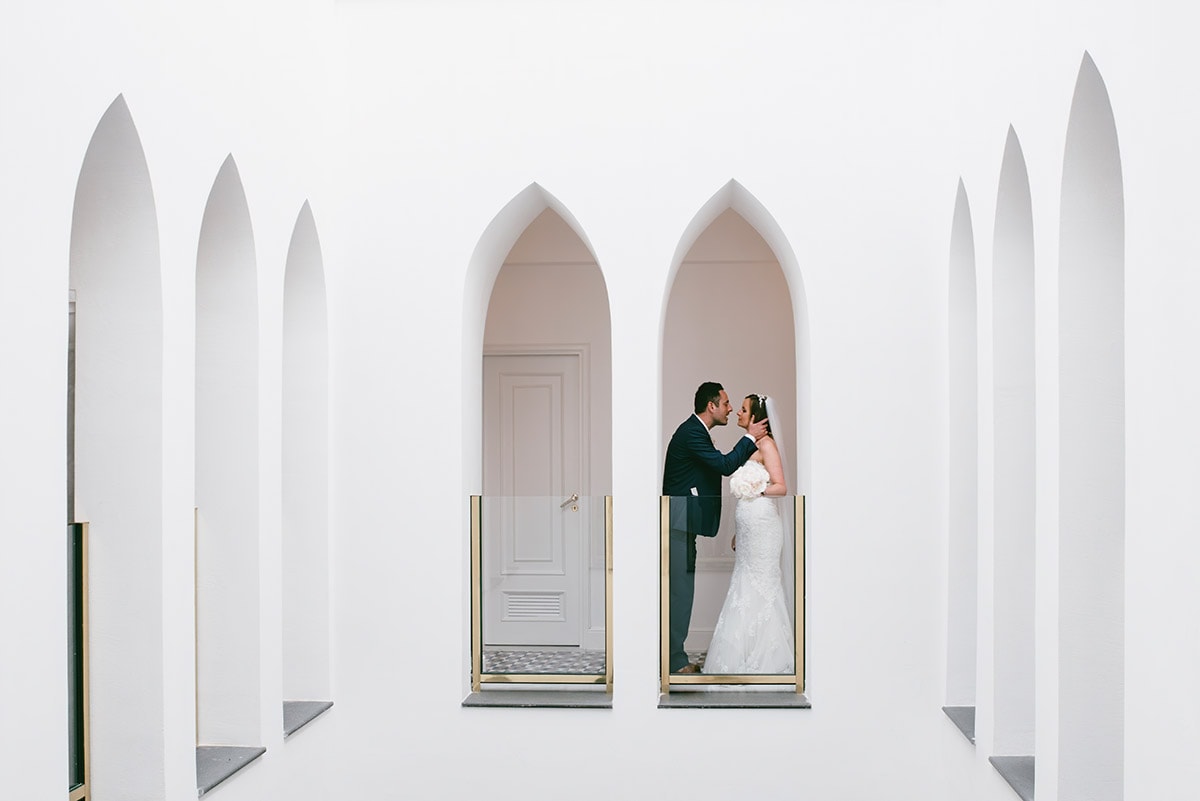 GET IN TOUCH WITH OUR STUDIO