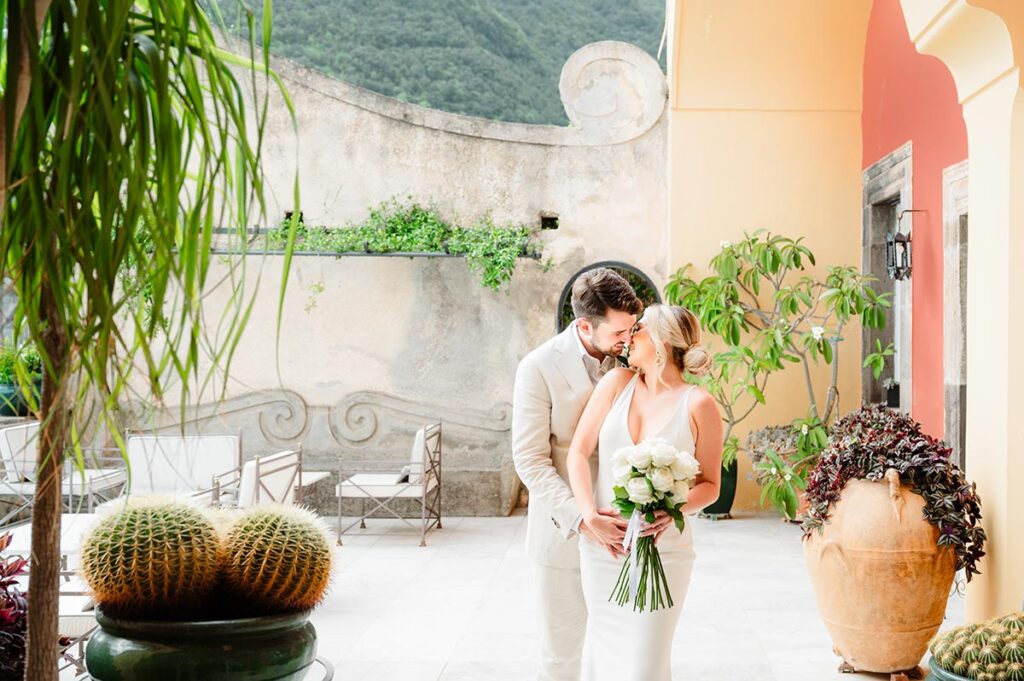 Villa Magia weddings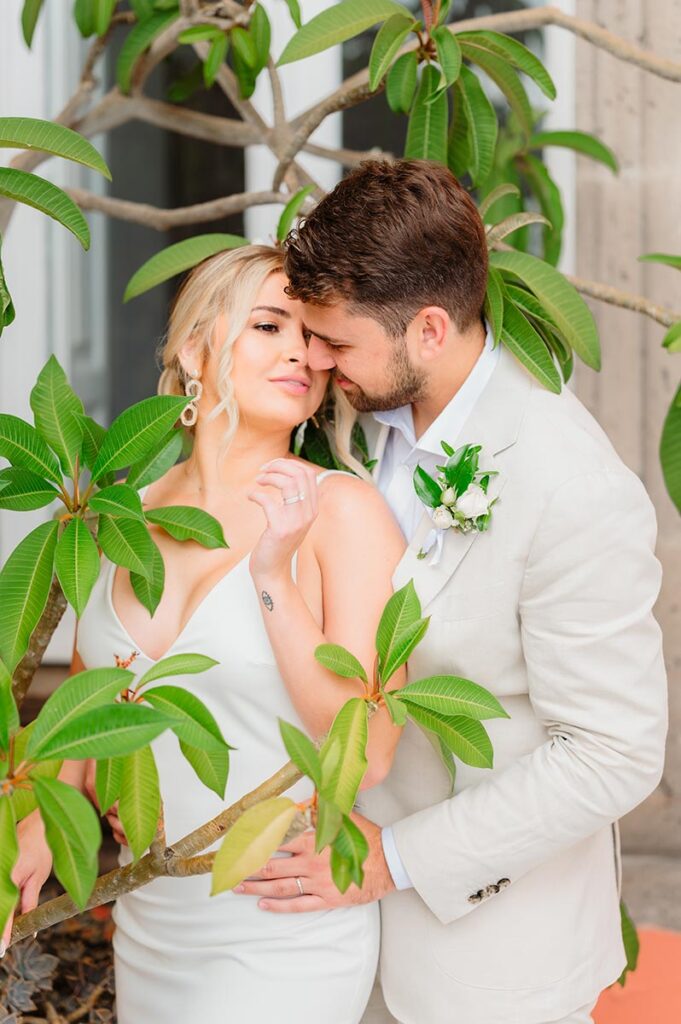 Say "I do" in Positano. This is a luxury venue with breathtaking sea views and perfect for your dream Villa Magia wedding. Contact us to plan your day.
Positano, a picturesque cliff-side town located on the Amalfi Coast of Italy, is the perfect backdrop for an unforgettable destination wedding. Positano is ideal for couples who want to celebrate their love in an idyllic, romantic setting with its charming Mediterranean architecture, stunning ocean views, and warm, sunny climate. And what better venue to host your special day than Villa Magia, a luxurious villa with panoramic views of the sea, the surrounding hills, and the charming town of Positano?
Villa Magia Wedding in Positano: A Dreamy Destination Wedding Experience
Villa Magia is a magnificent property that can accommodate up to 20 guests, making it an ideal venue for intimate weddings. With its spacious terraces, large swimming pool, and elegant indoor and outdoor spaces, the villa offers a range of options for your wedding ceremony, reception, and festivities. Whether you prefer to exchange vows on a terrace with panoramic views of the sea or in a more intimate indoor space, Villa Magia offers the perfect setting for your special day.
The villa's indoor spaces are as luxurious and inviting as its outdoor areas, with large windows and doors that let in plenty of natural light and offer breathtaking views. The main living area is elegantly furnished with comfortable sofas, armchairs, and an open fireplace, making it an ideal spot to relax and enjoy the company of your guests. The villa also features a fully equipped kitchen, a dining room with seating for up to 20 guests, and a wine cellar, making it a perfect venue for hosting a beautiful and intimate wedding celebration.
Villa Magia is a dream destination for couples who want to host a truly stunning wedding in an idyllic setting. The villa's panoramic views of the sea, the surrounding hills, and the charming town of Positano make it a truly magical and unforgettable venue for your special day.
In addition to its breathtaking views, Villa Magia offers a range of activities and amenities that are perfect for celebrating your love and creating lasting memories. The villa's large swimming pool is ideal for relaxing and enjoying the warm Italian sun, while the spacious terraces are perfect for al fresco dining, cocktails, and celebrations.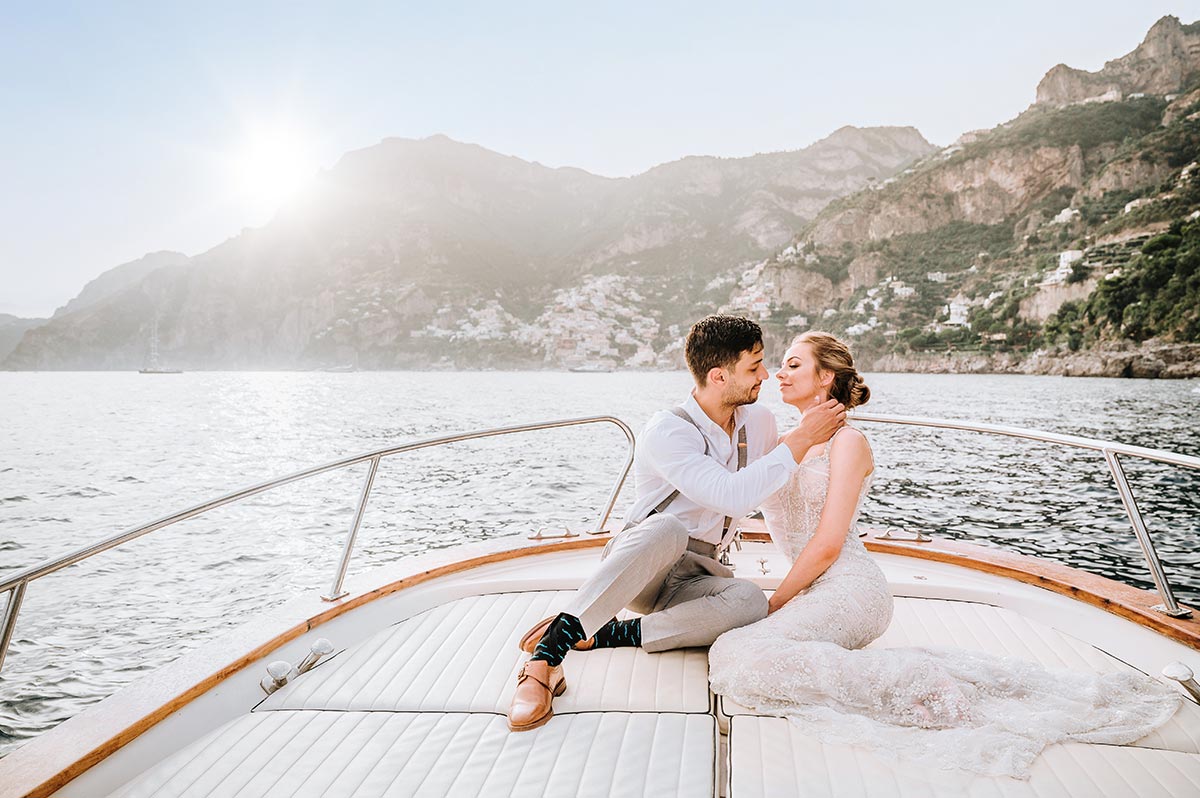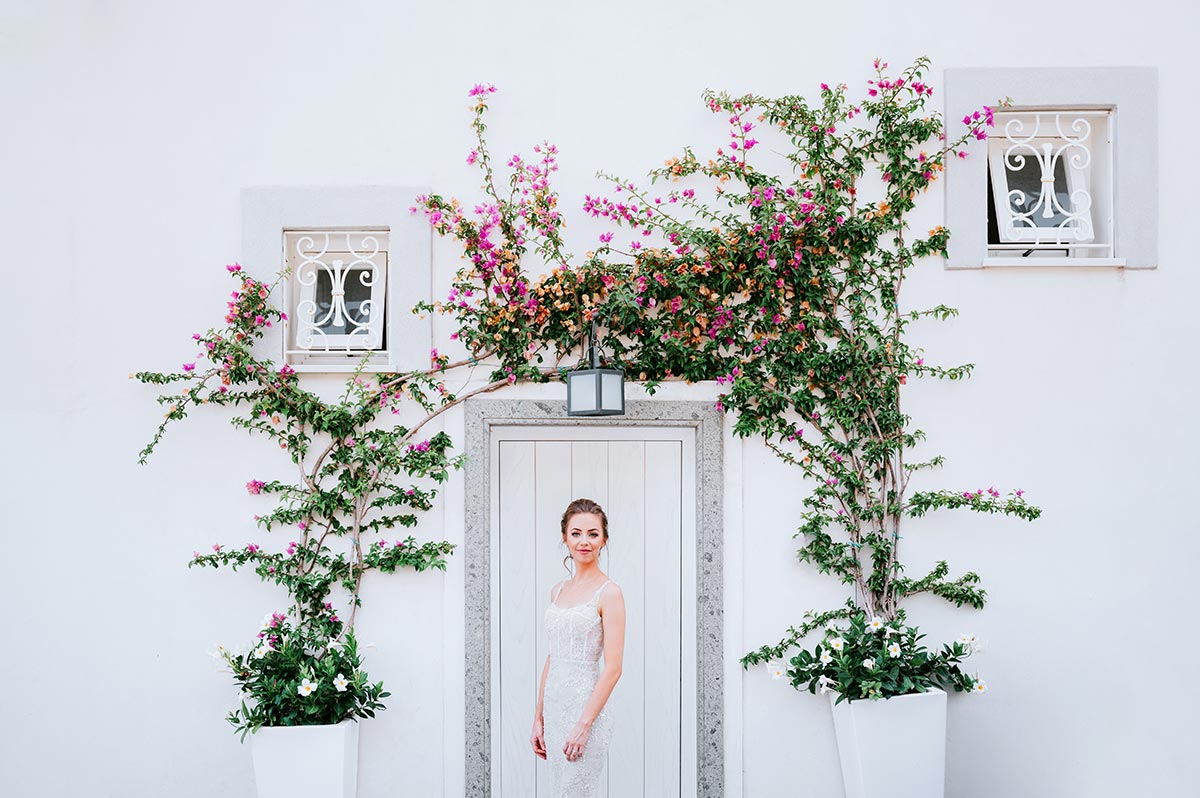 Why we love Villa Magia as wedding photographers in Positano.
At Emiliano Russo Studio, we love working inside Villa Magia. Firstly, the atmosphere there is truly unique in a bustling place like Positano. Essentially, couples are in an oasis in the heart of the city, a nest of tranquility and peace that exudes history from the outside of its walls and offers breathtaking backdrops with its vegetation and natural beauty that is difficult to find in other similar historic homes.
Although the best view of Positano is from the opposite side, that is, the view of the pyramid-shaped climbed houses on the rocky coast, Villa Magia has a picture of a B side that is unseen. No other structure has such a beautiful terrace with its characteristic color of the loggia and pillars on which the well-maintained vegetation rests. This is something you will only find at Villa Magia.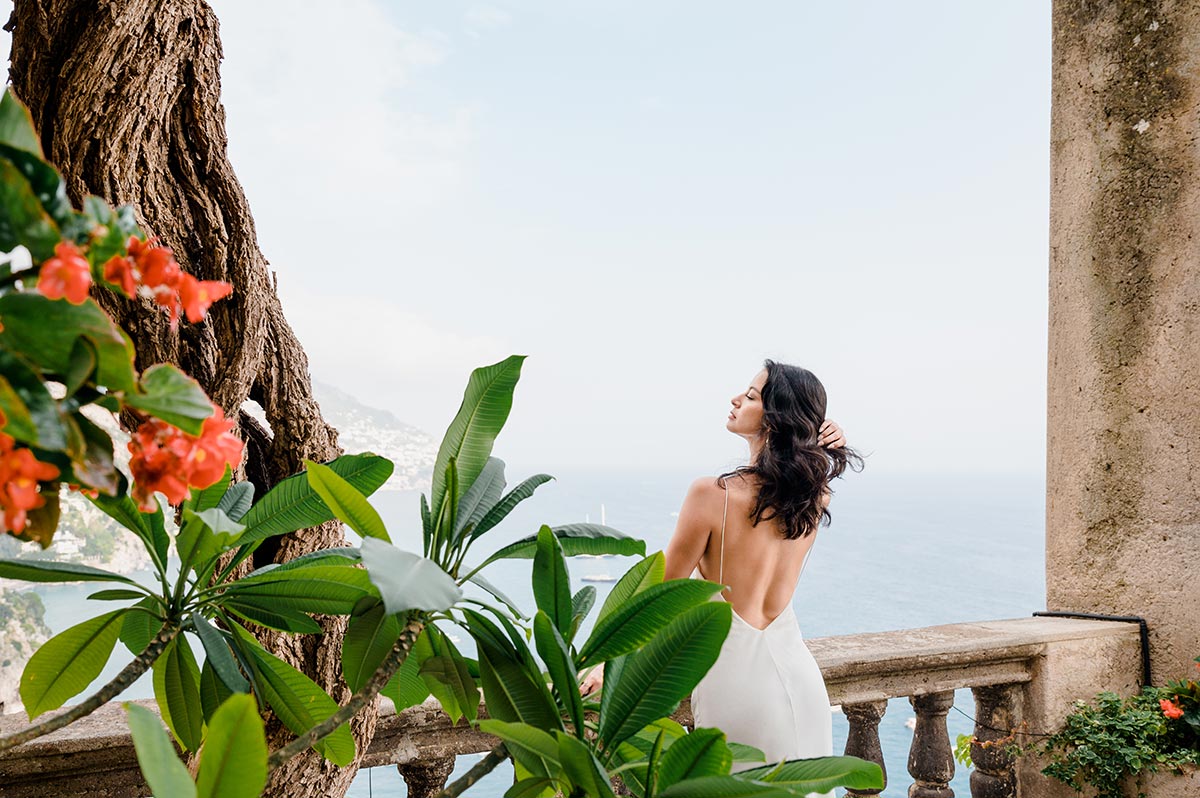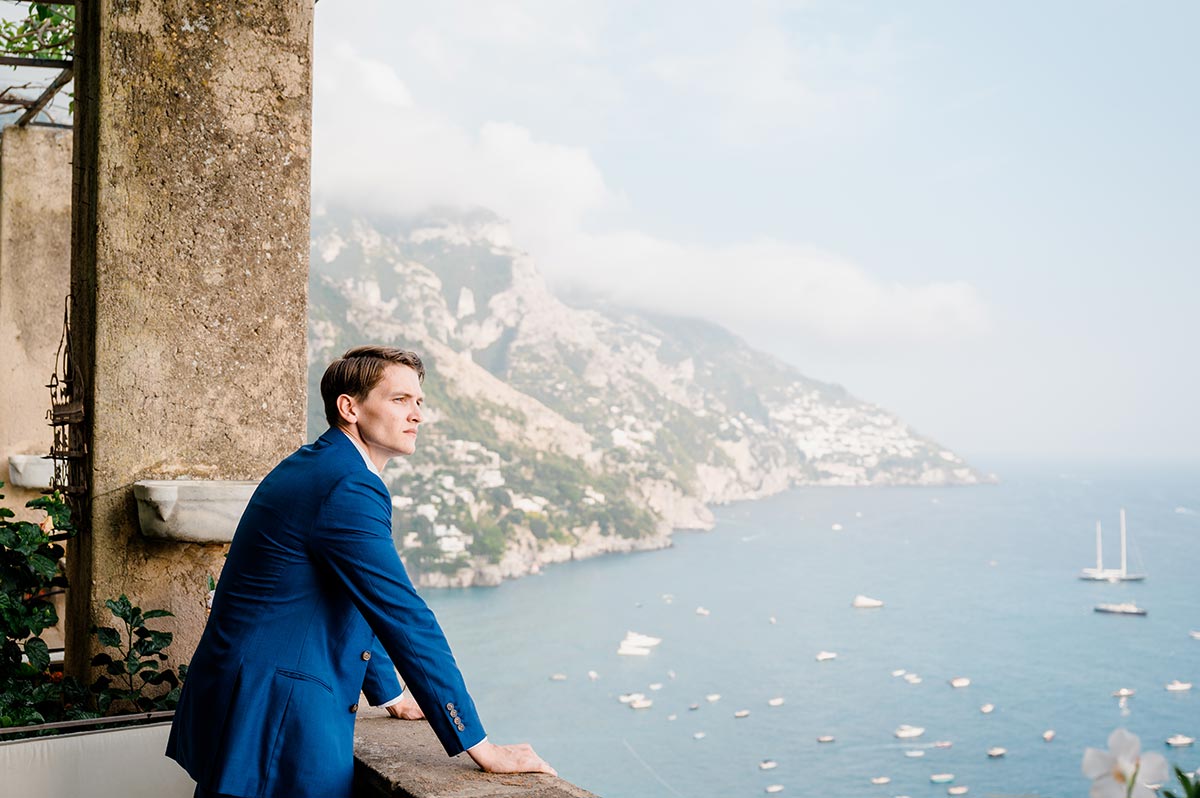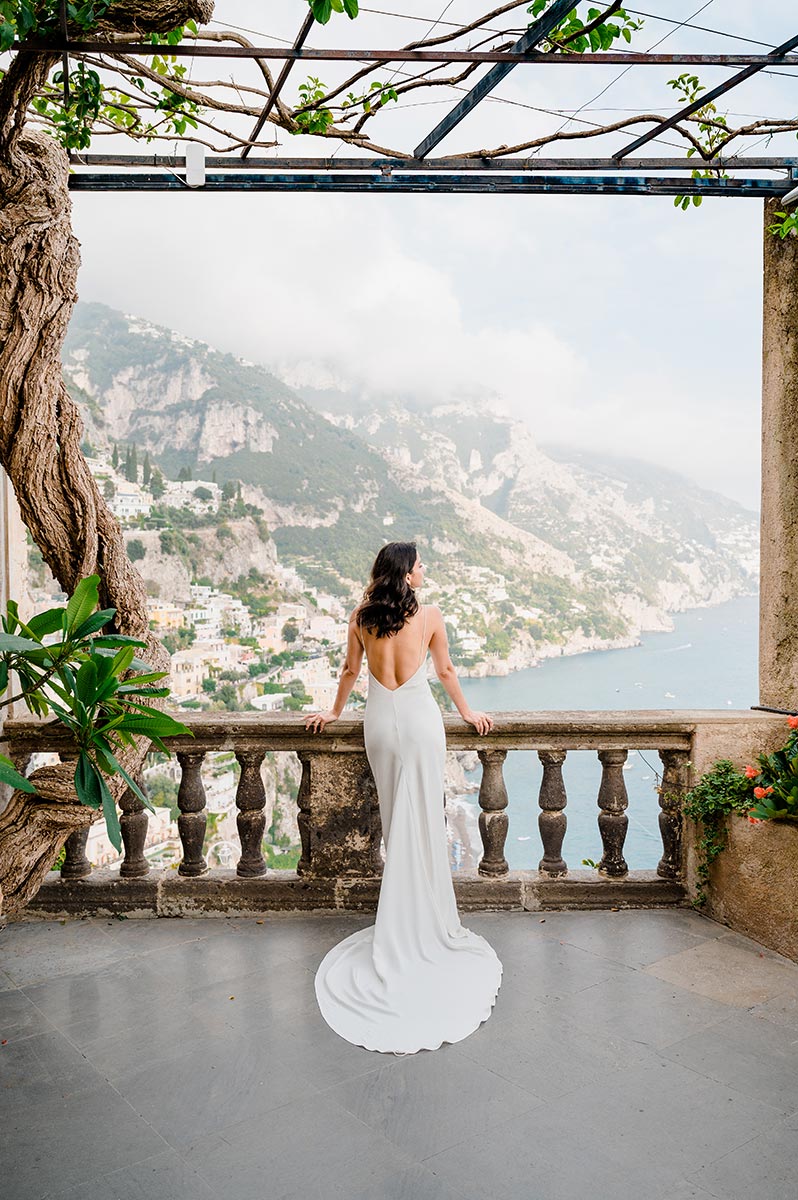 An intimate wedding in Positano is the ideal choice for a place that does not lend itself to weddings that are numerically too large.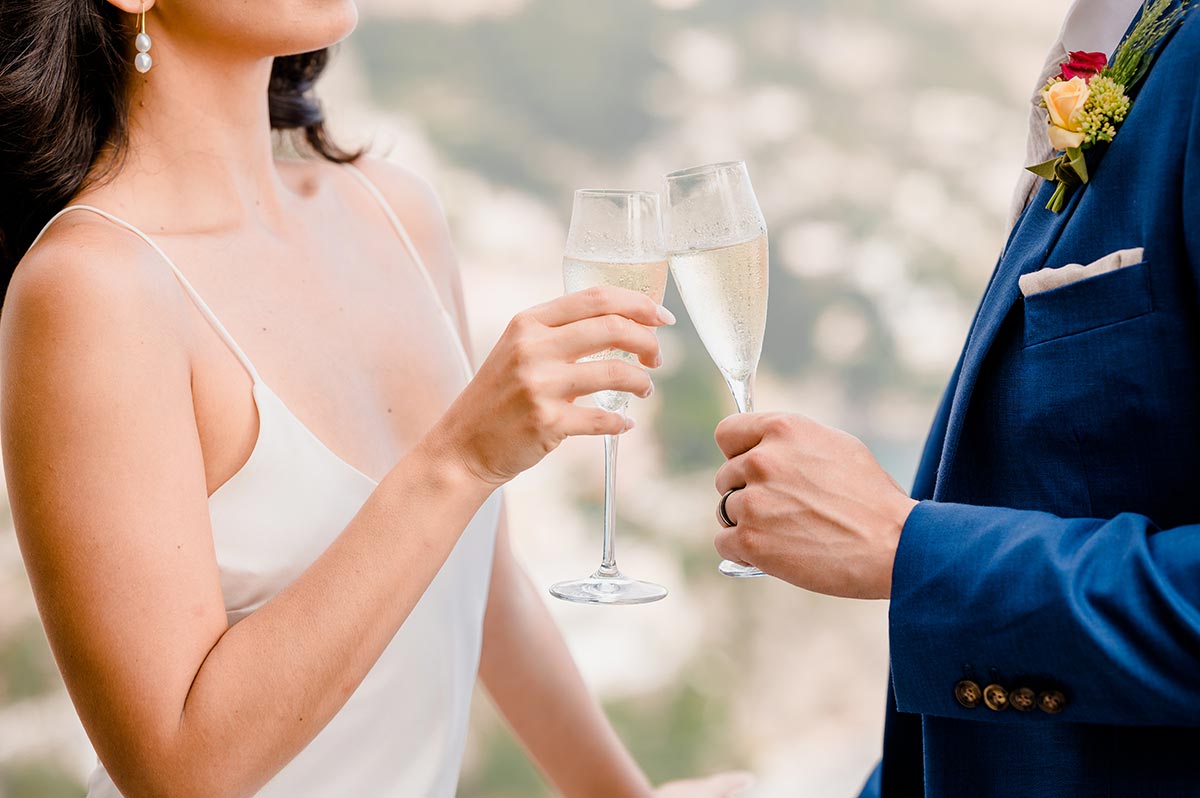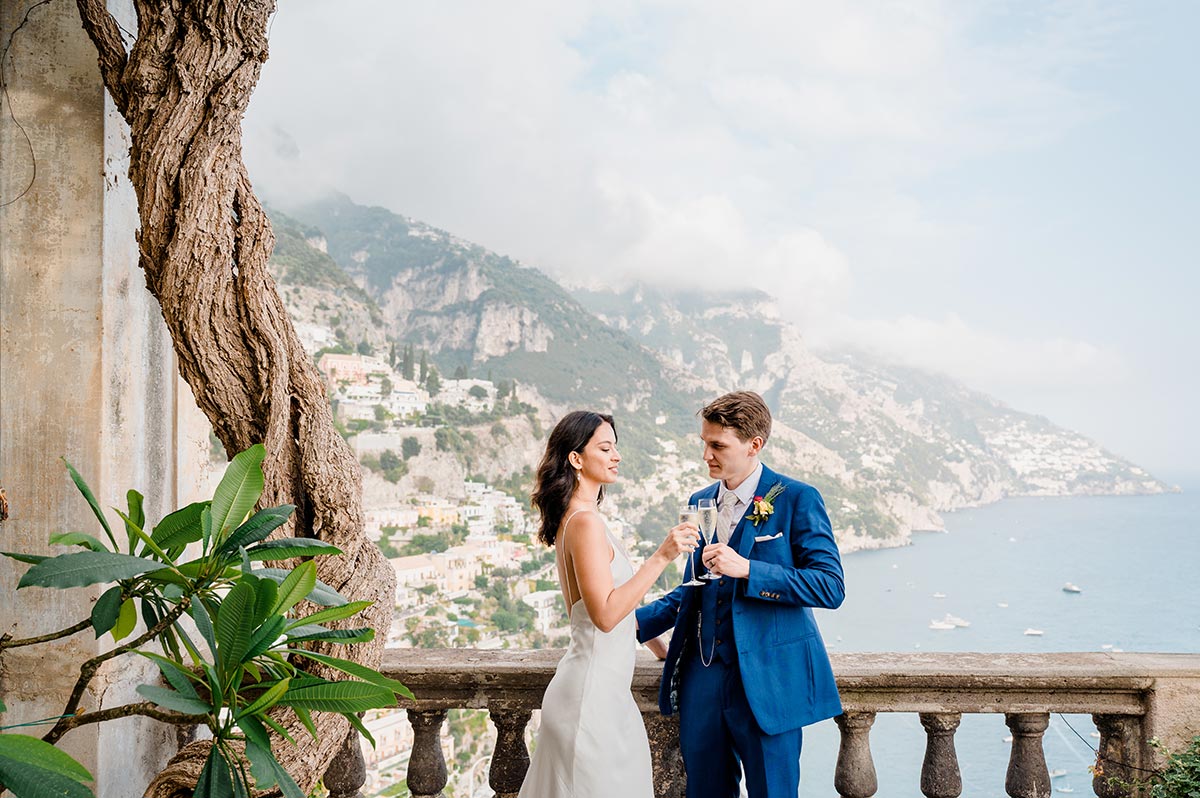 No venue has a bridal suite with a swimming pool just outside the main door, a panoramic terrace inside, and a large hall with a vast arched balcony for incredible photos.
No structure in Positano can boast an inner courtyard of unparalleled beauty and charm for timeless photos with perfect light.
As a photography studio in Positano, we love the most the combination of history, architecture, and elements of greenery and nature that are skillfully inserted into the space. This can be immediately seen as soon as you enter the structure, where trees and climbing plants take your breath away as you admire the view of the coast.
But the main reason we love Villa Magia is that the hospitality there is genuinely one of the best on the entire Amalfi Coast. Marilù and Giada are wonderful people, and interacting with them will take your wedding experience to a much higher level. They are always available and genuinely smile, they have an innate sense of hospitality that is typical of Positano, but in them, it is even more pronounced. This element makes the difference with many other similar places.
Another reason why we love working at Villa Magia is the beautiful and spacious grounds surrounding the venue. The lush gardens, sparkling fountains, and picturesque walkways offer countless opportunities for breathtaking outdoor photos that perfectly capture the essence of the Amalfi Coast. Whether capturing the bride and groom as they stroll hand-in-hand or capturing their guests' happiness and excitement, the Villa Magia grounds offer a truly idyllic setting for wedding photography. Additionally, the gardens provide the perfect backdrop for intimate ceremonies, outdoor receptions, and other wedding-related events.
Unique intimate elopements in Italy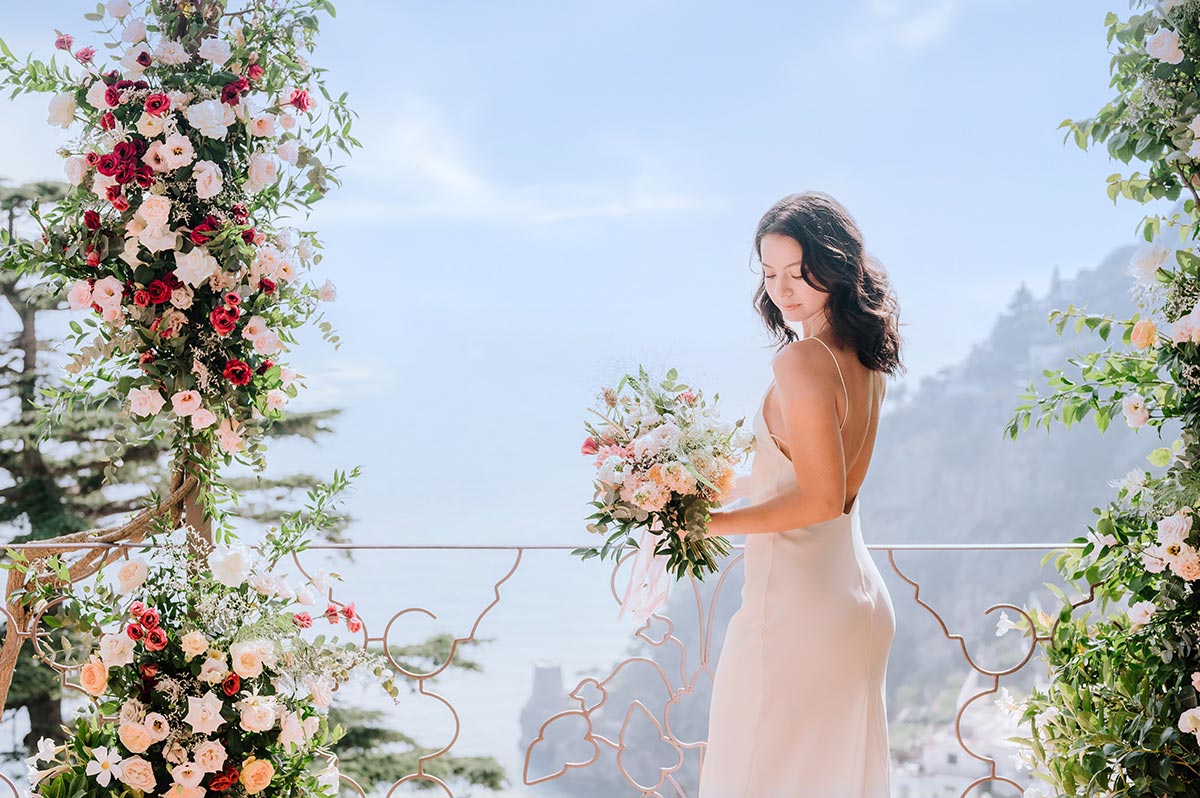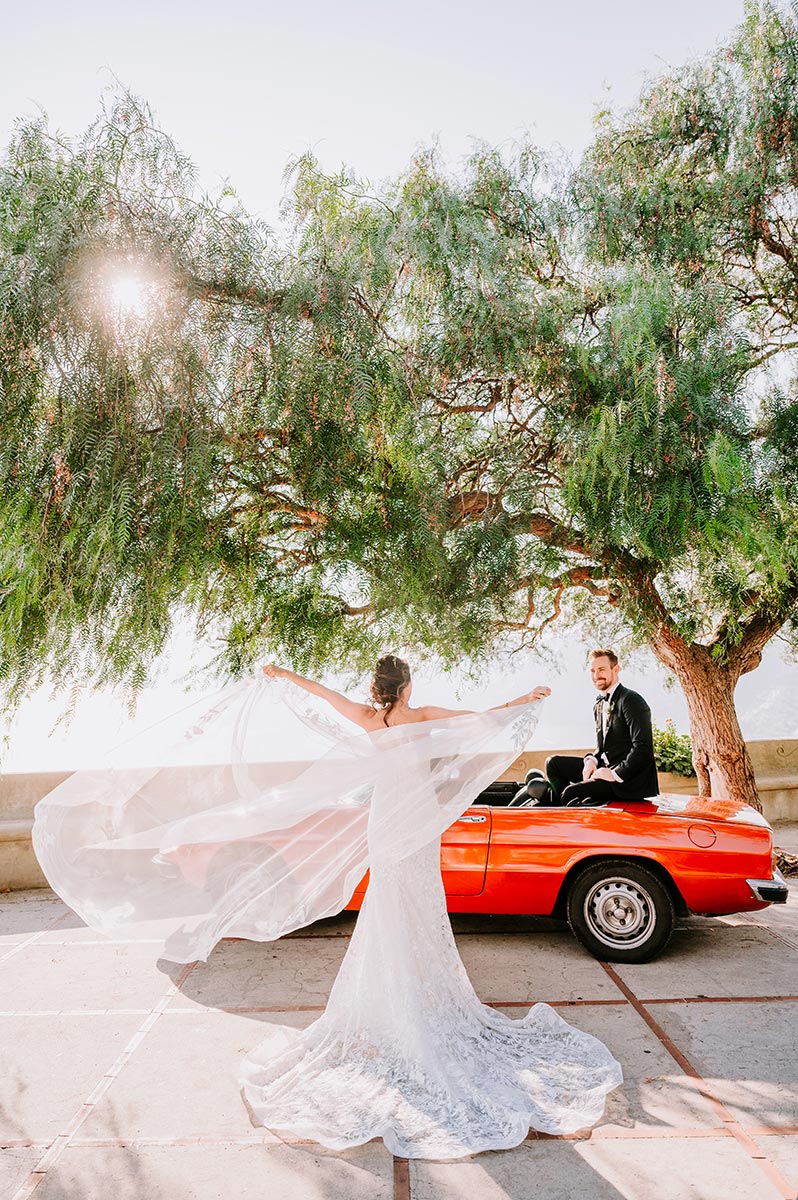 An intimate and private wedding in Positano. Find out how to make your elopement in Italy unforgettable with wonderful photos and unique details on breathtaking views.
An intimate wedding with a vintage car in Praiano. If well organized you can plan the ceremony in Positano and take pictures along the coast and driving a vintage car.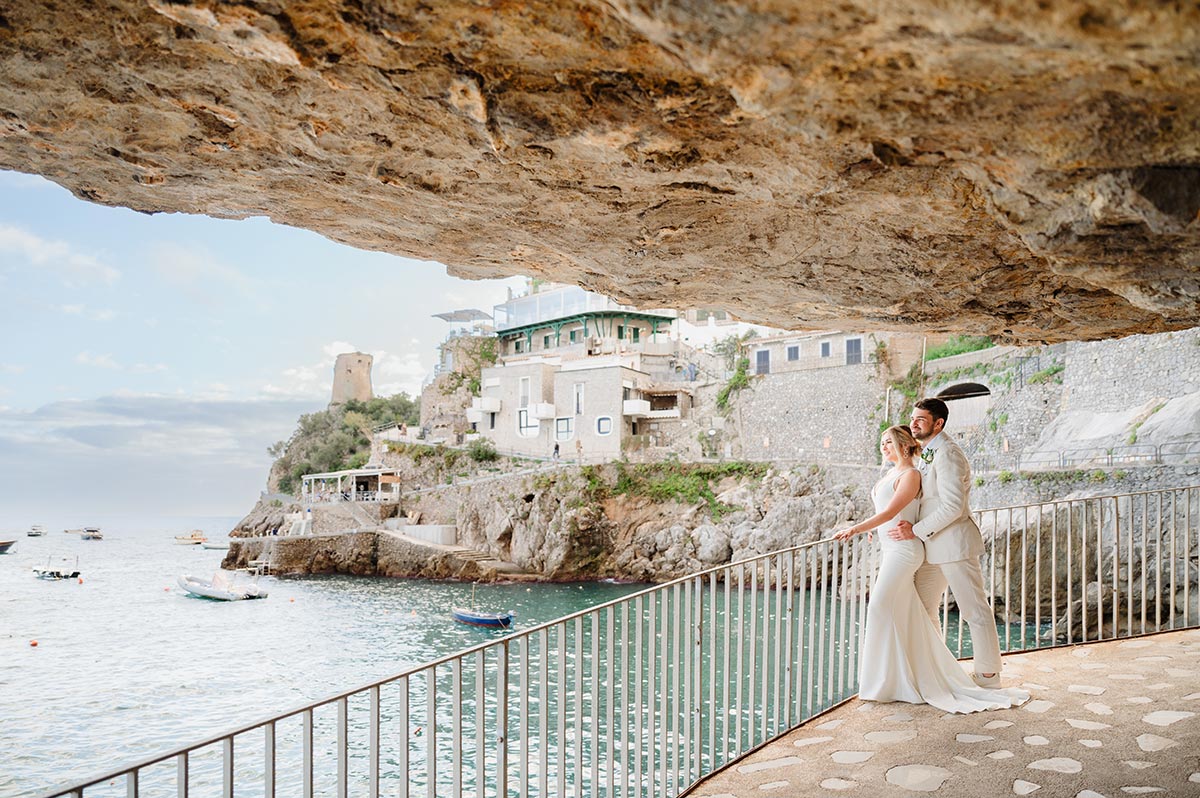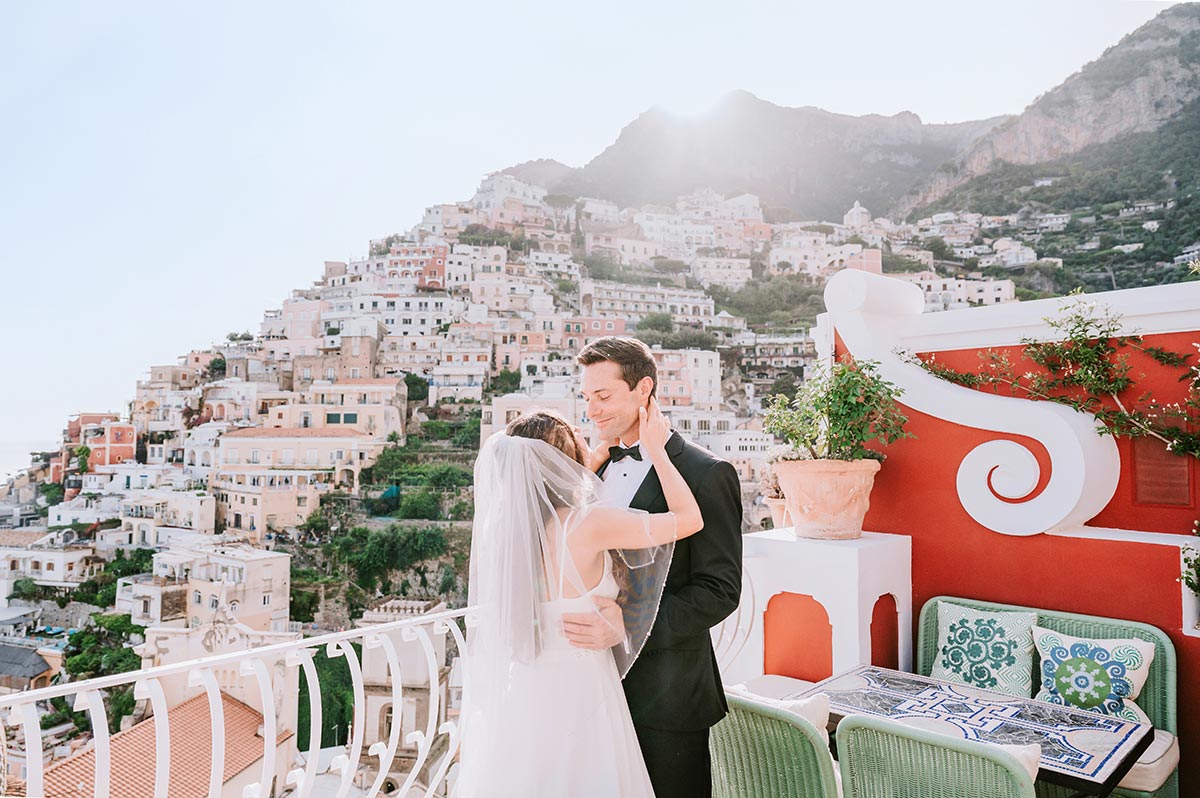 Our goal is to redesign the atmosphere of your wedding and give you a unique emotional record of a perfect day.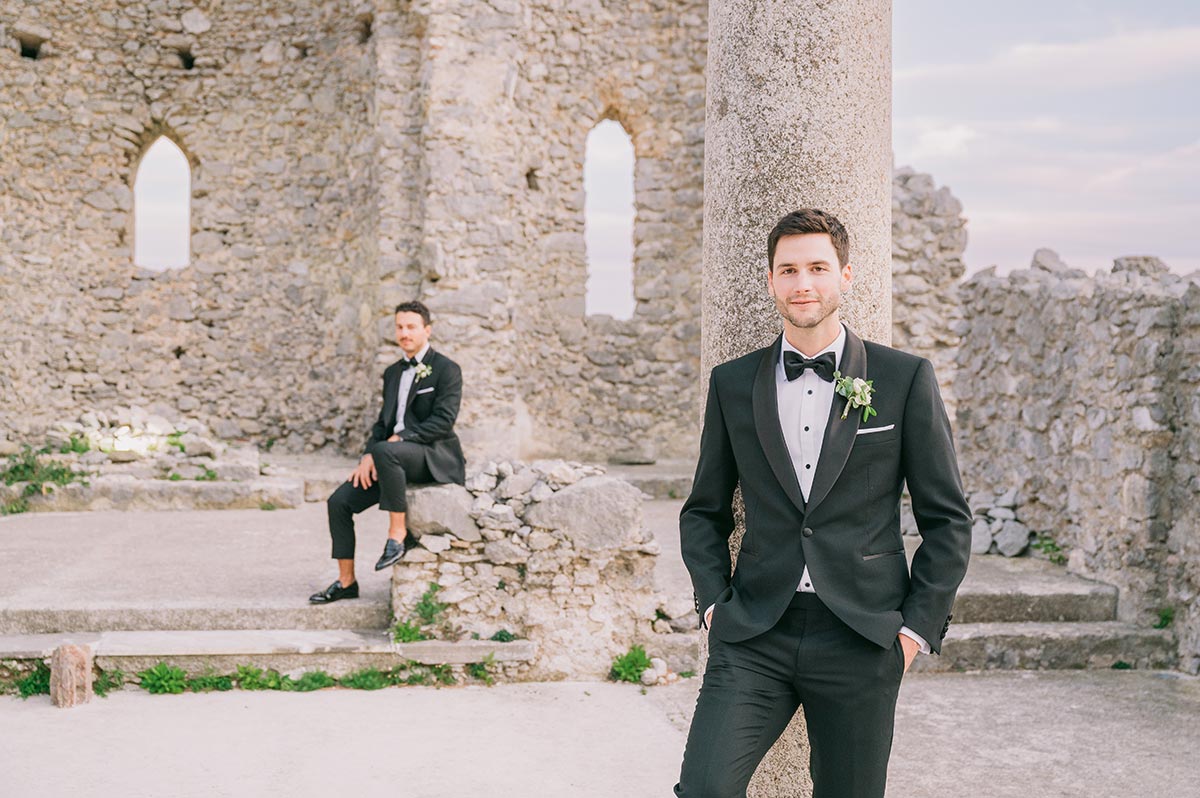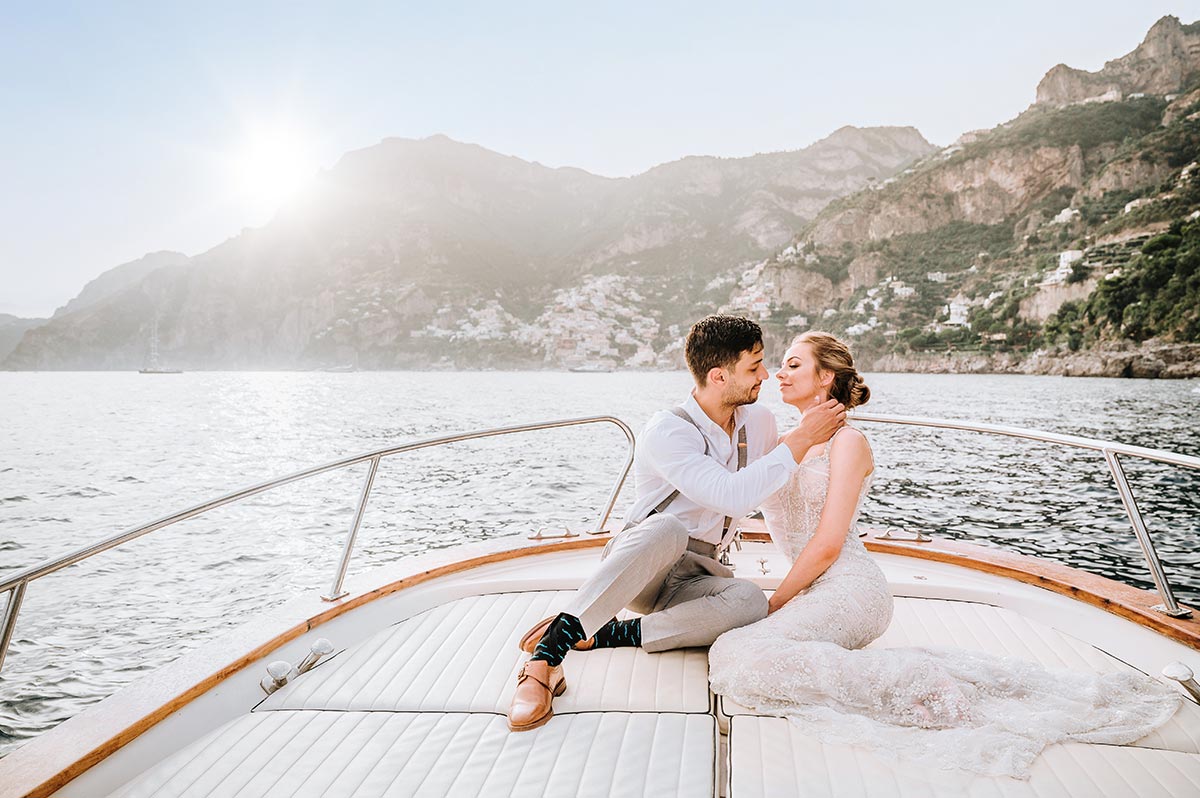 For you who love luxury and elegance, refinement, amazingness on such an important day, there is a dream to live with no delay.
Where you can get wedding pictures in Positano after Villa Magia.
One of the reasons why Villa Magia is such a convenient choice for a wedding is because of its fantastic location in the heart of Positano. With this prime location, you can capture some truly breathtaking and one-of-a-kind photographs, which few can do. As you descend the narrow and unassuming streets of Positano, you'll come across charming and picturesque alleyways off the beaten path, providing a stunning and serene backdrop for your photos.
Once you reach the marina, you'll still be able to capture those iconic photos of Positano, with the town nestled on the cliffs in the background. But, why settle for just those pictures when you can elevate your experience further by combining your wedding day with a boat tour? These tours are top-rated among couples who want to get truly breathtaking and unforgettable photos with Positano as the backdrop, especially if you're lucky enough to catch the sun in the right light.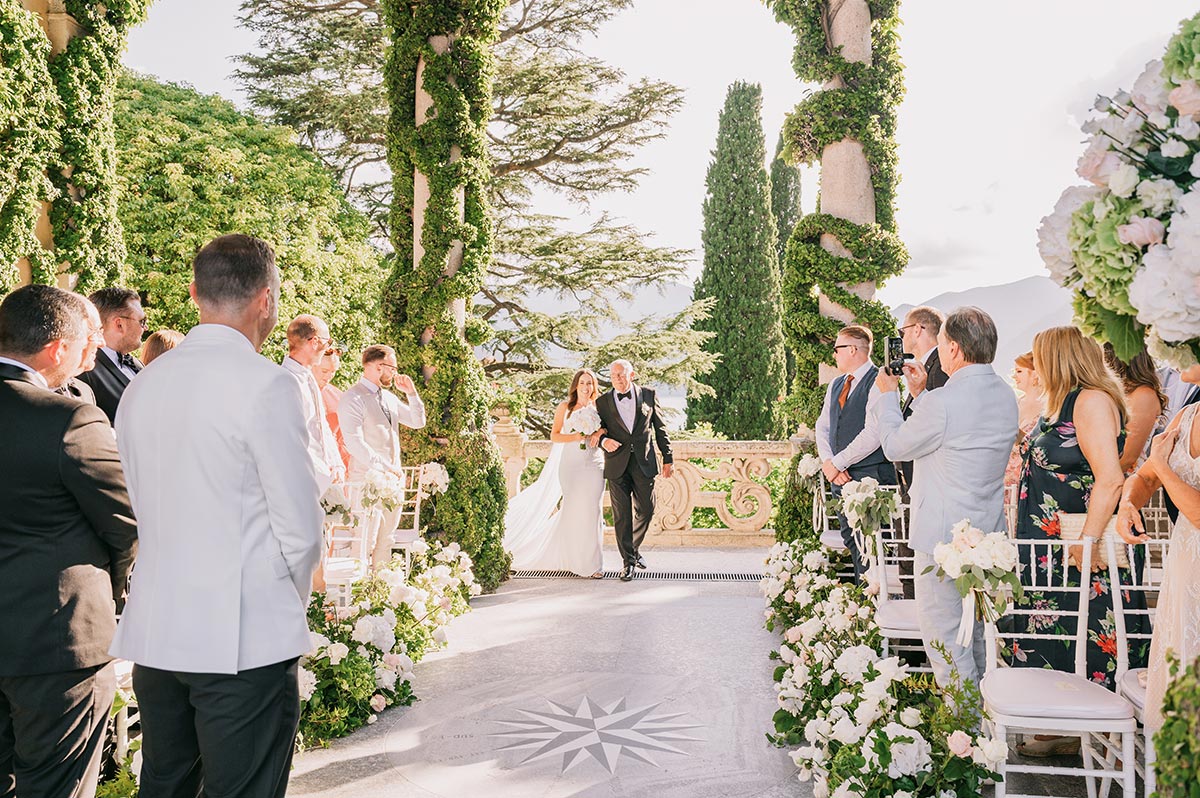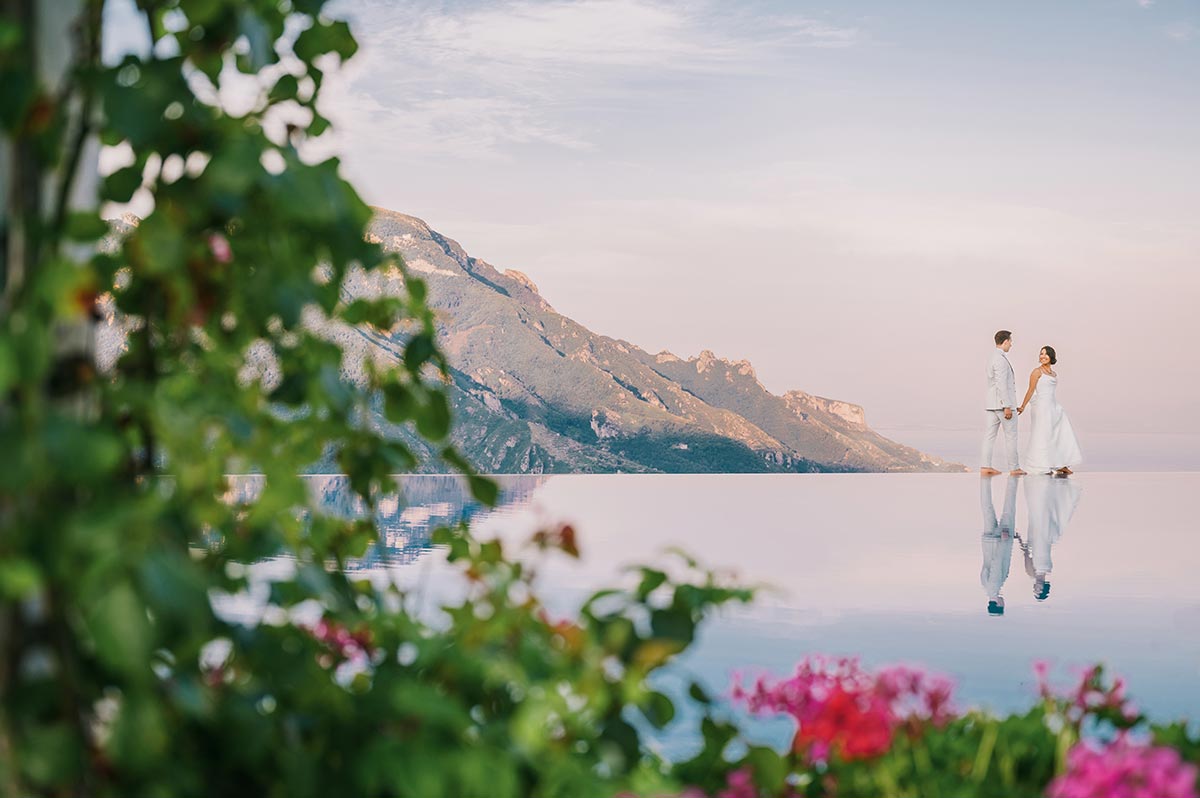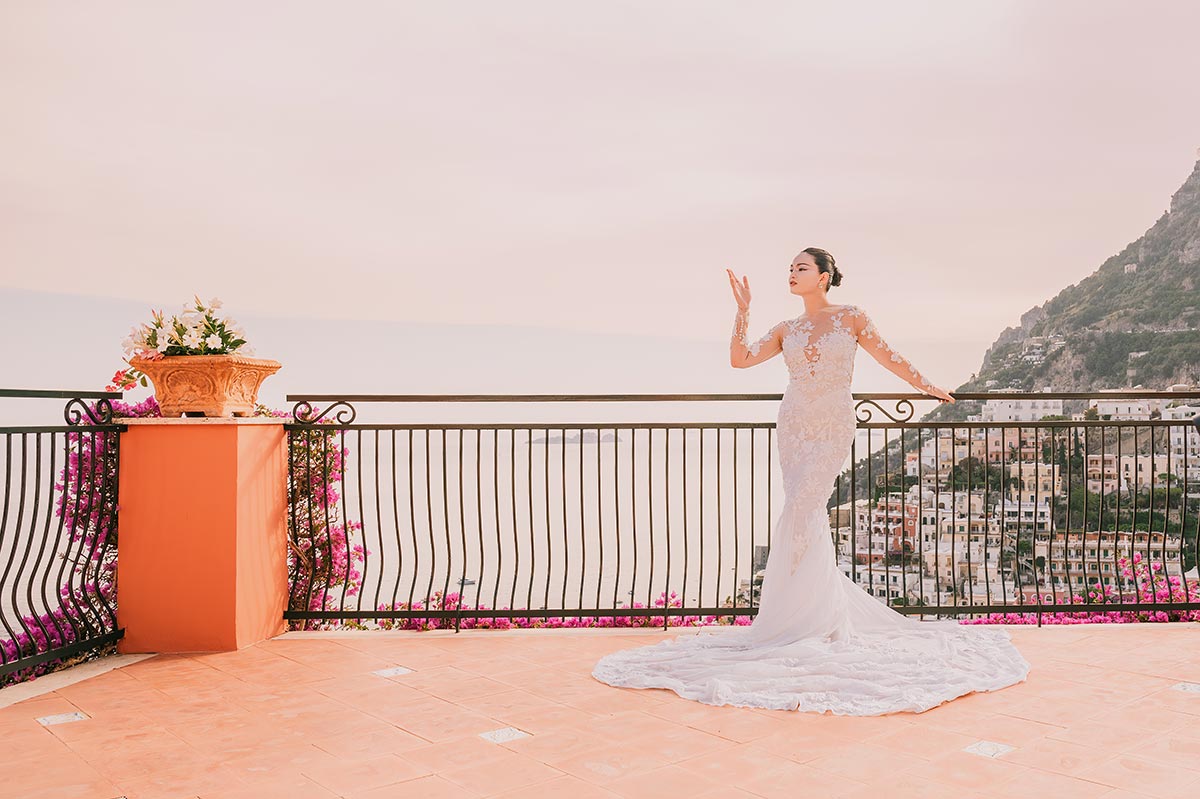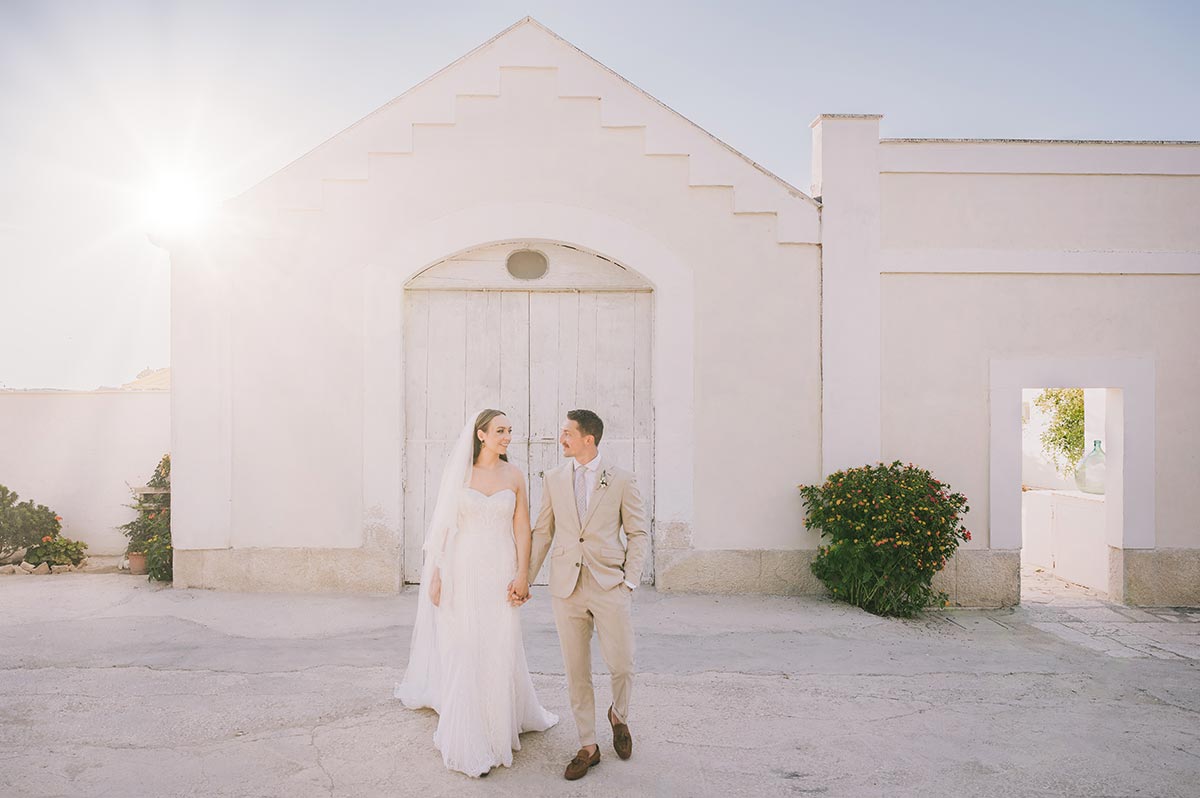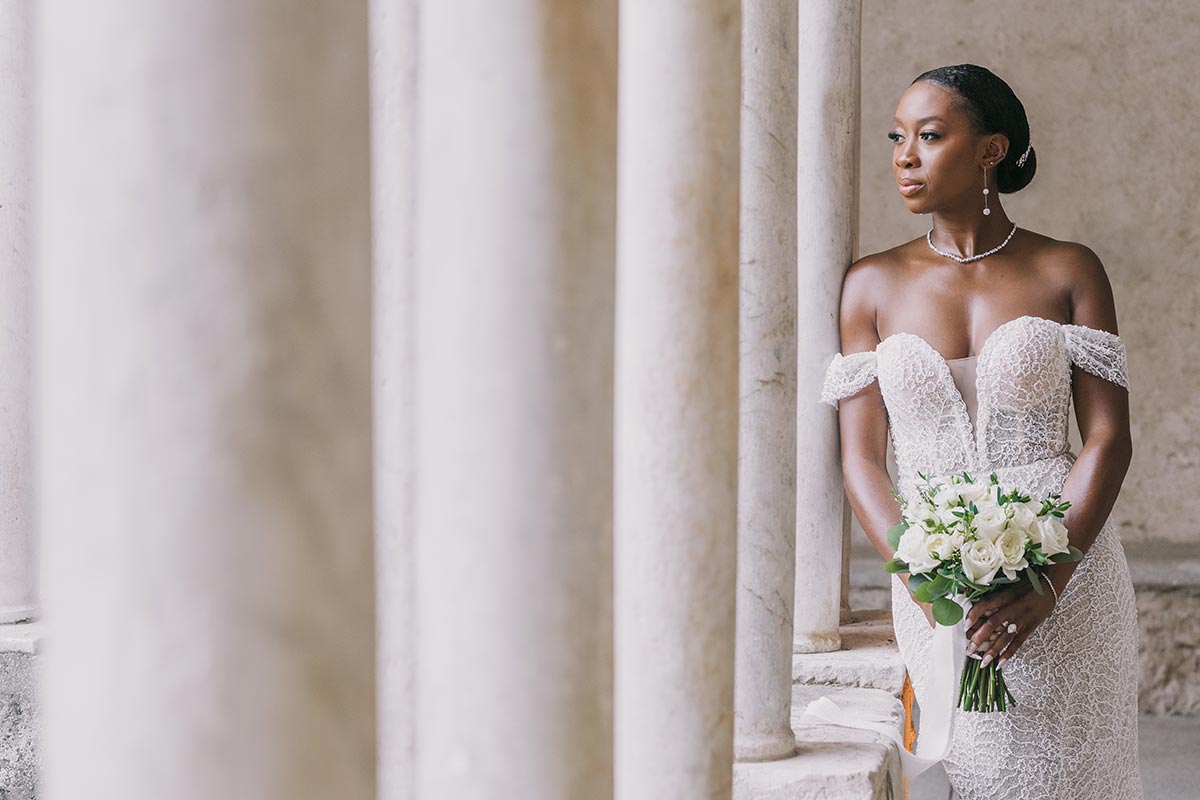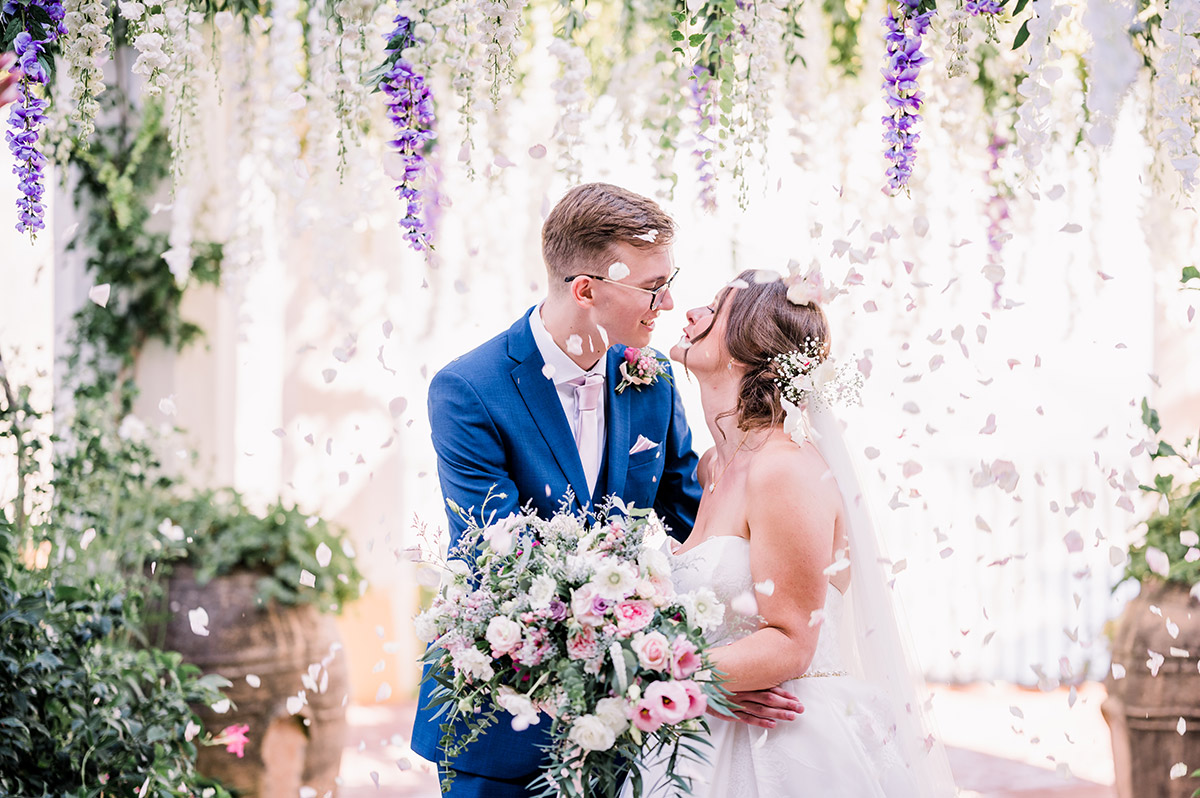 At Villa Magia, we work with the best service providers and boat rental companies, who offer great flexibility when it comes to scheduling. This means you can explore other beautiful destinations along the Amalfi Coast, capturing memories that will last a lifetime. And, when you're ready to return to Villa Magia, a driver will be waiting to pick you up at the end of the pedestrian area, so you can enjoy a delicious dinner and reflect on all the joy that was shared on your special day.
Villa Magia is the perfect place to host your wedding and make memories you'll cherish forever. The breathtaking scenery, combined with the prime location and top-notch service, means that you're sure to have a memorable and magical day. So, why not embrace the joy and choose Villa Magia for your wedding day?
A Team of Experienced Wedding Planners to Make Your Dream a Reality
The Villa Magia team understands that planning a destination wedding can be a daunting task, which is why they offer a team of experienced wedding event coordinators who are on hand to help you every step of the way. From choosing the perfect venue and arranging transportation to assisting with decorations, flowers, and catering, our team of experts will ensure that your special day is stress-free, seamless, and unforgettable. Yet, you can also choose to have an external wedding planner in Positano and other vendors.
How to choose the perfect wedding planner for your Villa Magia Positano wedding
When searching for the right wedding planner for your Villa Magia wedding in Positano, remember a few things. Before hiring someone in the Mediterranean region for a task as large as your wedding day, do a little research. Is the company local and familiar with your location and culture? What references can they provide? Will they be on-site to ensure everything goes smoothly on your big day? These are all questions you should ask during the interview process. Rest assured, the time you take up front will save you headaches and stress.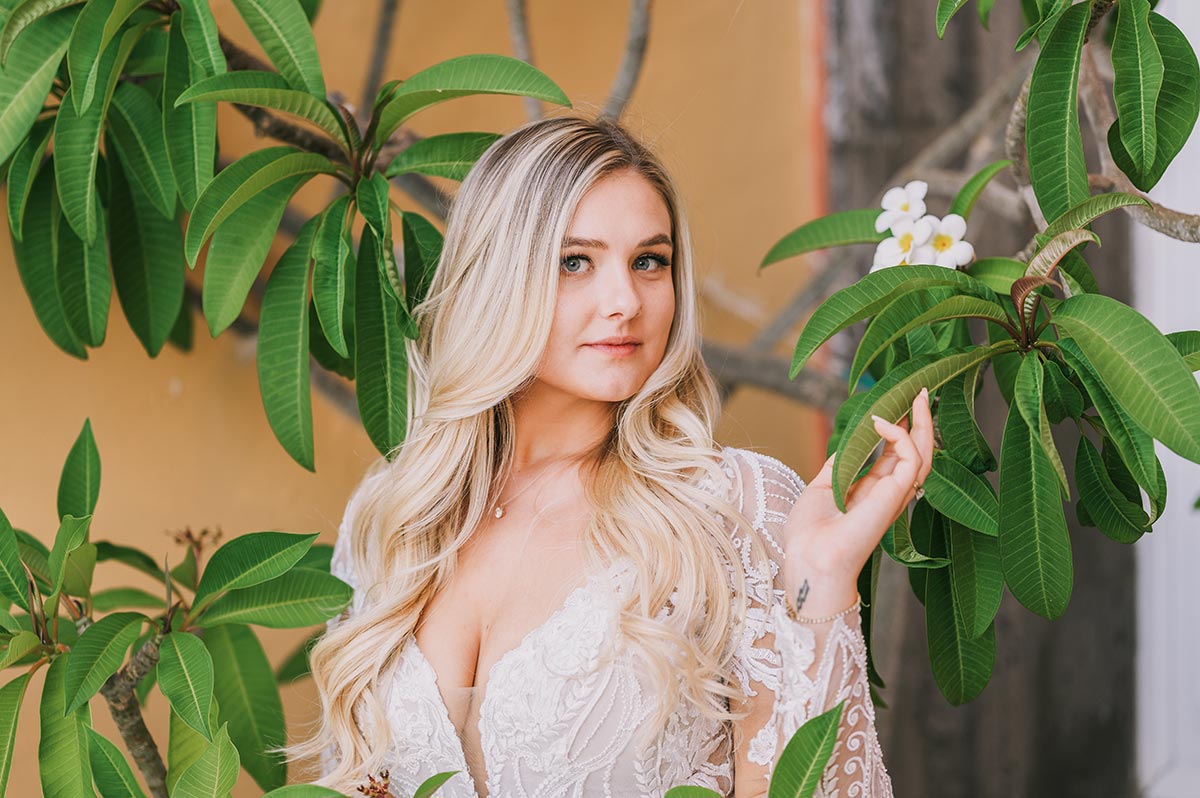 Discover the best way to plan a romantic wedding in Amalfi Coast, and hire a Photographer in Positano Italy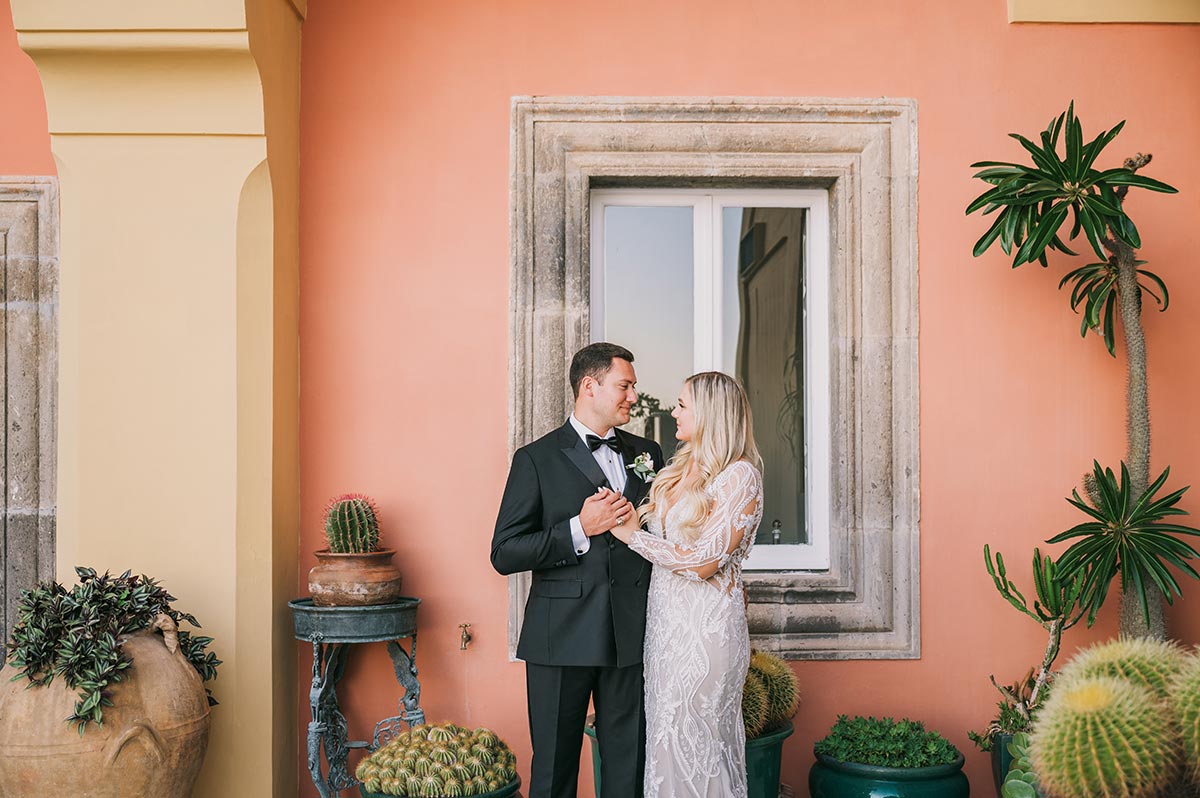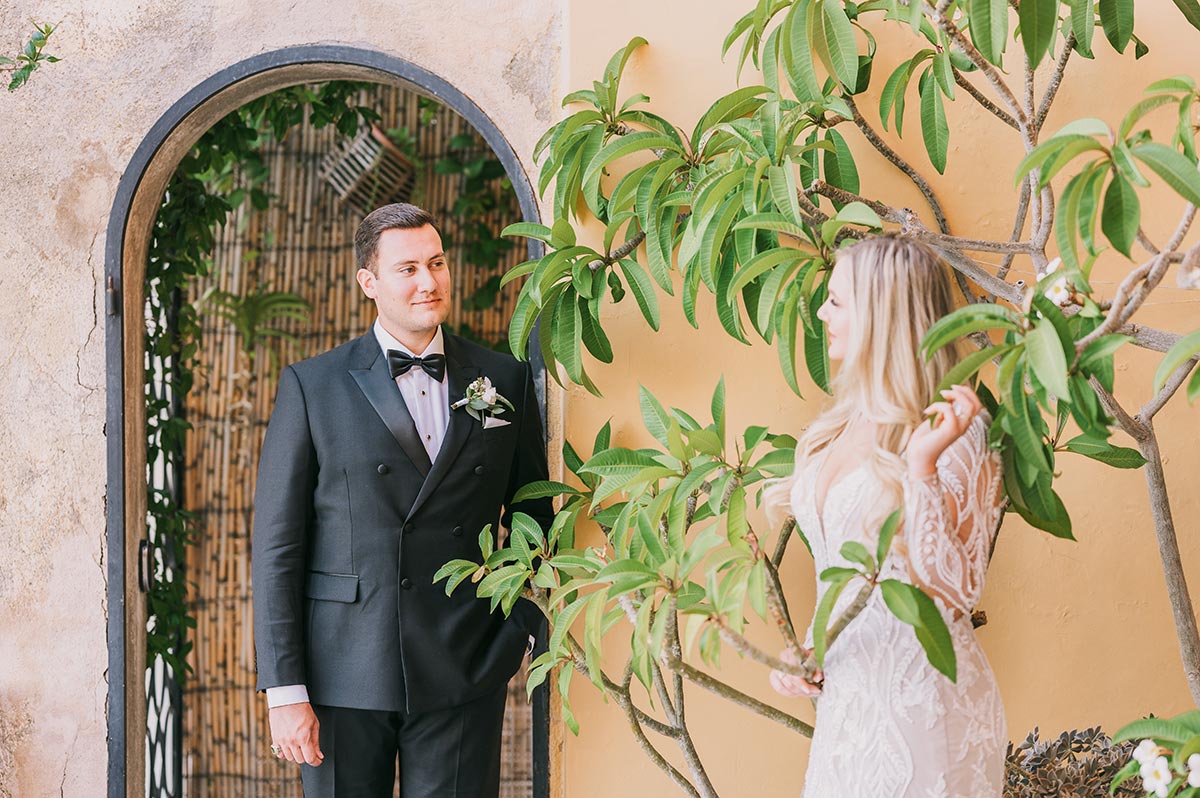 It is important to ensure that your wedding planner is based in Italy, as they will need to understand the area thoroughly. While your planner doesn't need to reside in Positano, it is helpful if he or she does so that they can ensure that no logistical details are overlooked. A planner outside of Italy will likely have to rely on local planners, which can increase costs for the couple.
To be a successful wedding planner, one must communicate effectively with all vendors and coordinate the wedding day's various aspects. A good wedding planner should have excellent organizational skills and the ability to anticipate potential problems. They should also have a good understanding of timing and light and how much everything will cost so they can work within the couple's budget.
We have years of experience in the wedding industry and have worked with many talented wedding planners. Our goal is to help our clients find the right planner for their big day, one who will bring their vision to life and be a joy to work with.
A wedding planner is essential for managing communication between all vendors, including the venue and local authorities if the couple wishes to have a civil ceremony. A specialist in this area will help ensure that all necessary documentation is in order, avoiding any unpleasant surprises on the big day.
Florist and decoration at Villa Magia
The choice of the right florist and decorations can significantly impact the overall aesthetic of a Villa Magia Positano wedding, even in an already luxurious setting. The challenge for the florist is to find the perfect balance between adding beautiful floral arrangements and other decorative elements while not overwhelming or detracting from the natural beauty of the surrounding environment. The florist must possess the skills to enhance and complement the already stunning backdrop of Villa Magia.
When selecting the right florist, it's important to prioritize those with a well-designed and well-maintained website. This can be a good indicator of the level of professionalism and attention to detail that the florist brings to their work. If the florist still needs a website, they should turn to their social media presence for insights into their style and quality of work.
In addition to the florist's portfolio and online presence, it's crucial to consider the cost of flowers and decorations. Choosing seasonal and locally sourced flowers can help control costs and ensure that the flowers are as fresh as possible. It is important to only order flowers from far away regions as this can result in significant price increases.
It is also important for the florist to work closely with the couple or wedding designer to create a cohesive and well-designed wedding theme. This requires excellent communication skills, attention to detail and understanding and bringing to life the couple's vision. The florist is responsible for bringing together all of the decorative elements, from the bouquets to the table arrangements, to create a harmonious and beautiful environment that reflects the couple's taste and style.
In conclusion, the choice of the right florist and decorations can significantly impact the overall aesthetic and atmosphere of a Villa Magia Positano wedding. When selecting a florist, it's important to consider their portfolio, online presence, cost of flowers, ability to work closely with the couple or wedding designer, and communication skills. With the right florist, the couple can rest assured that their wedding will be a beautiful and memorable celebration surrounded by stunning flowers and decorations.
Music and entertainment at Villa Magia.
Music and entertainment play a crucial role in elevating the overall experience of a wedding, regardless of whether it is a small, intimate affair at Villa Magia in Positano or a grand celebration with many guests. When planning a "Villa Magia wedding," it's important to consider the music, entertainment, and lighting, as these elements can significantly impact the atmosphere and overall feel of the event.
One aspect to remember is lighting, as many venues may need to be equipped with it and the cost for lighting services may not be included in the initial quote. It's important to find a reliable lighting company that can answer the dance floor and the lighting necessary throughout the wedding.
Regarding the music, it's essential to have clear and accurate specifications on the type of playlist you would like to have, based on your musical preferences. Finding a balance between your preferred music style and the style of the DJ or band is also important. The sound system is also crucial, especially if you plan to have a videographer capture important moments, such as speeches, during the event.
Ultimately, the key to ensuring a successful and memorable wedding is to work closely with the entertainment providers, wedding designer, or even the couple themselves to plan and execute every detail carefully. This way, you can create a magical, unforgettable experience for all attendees.
If you are looking for a breathtaking destination for your wedding, look no further than Villa Magia. With its charming Mediterranean architecture, stunning views, and range of activities and amenities, this luxurious villa is the perfect venue for a magical and unforgettable destination wedding. Contact us today to start planning your dream wedding in Positano!